Over the years, you have probably accumulated everything from childhood keepsakes to old high school textbooks that you'll never use again. Maybe you forgot to get rid of your old ski equipment that you only used once.
Now as you get ready to move, you realize it'll cost a pretty penny to transport all of these items to your new home. Instead of throwing your things away, consider holding a moving sale. This will reduce the amount of stuff you have to move and help you make money for the rest of the moving process.
If you want to organize and host a profitable moving sale, you will need to create a thorough plan first. Follow these moving sale tips to make sure your sale goes problem-free.
Organize Your Items
Before you can sell items, you will need to find them. Look through your attic, basement, garage and closets to find items in good, sellable condition. Once you have the items you want to sell, choose an area in your home where you can organize these items. Then separate items into piles according to their functions. For instance, you can have a pile for your kitchenware and another pile for children's toys.
Here is a list of possible items you may want to sell:
Souvenirs with no sentimental value
Magazines or posters
Unused CD's
Children's shoes and clothes
Old textbooks
Sports equipment
Furniture
Don't get overzealous and throw away items that have sentimental value to you and your family. Some items merit the cost of relocation.
After you have organized the items into categories, make a list of items you plan to sell and what you'll charge for each item. This price list will help you in case stickers fall off during the actual moving sale.
If you're computer savvy, consider selling high-priced items on eBay. You can sell these pieces faster and possibly make more money. Selling on eBay does require some extra efforts. You will need to take pictures, write descriptions and ship the items. However, you may make more using this method.
Schedule and Advertise the Day
If you don't plan to move immediately, schedule your moving sale on a Saturday near the first half of the month. People are more likely to go shopping after they receive their paycheck at the beginning of the month. You should also hold the sale in the morning so you have all day to sell your items. Make sure you choose a day that has good weather forecasted.
After you've set a time and date, spread the word. Use newspapers and signs to lead people to your home. You can also advertise on the internet through local news outlets and your personal social media accounts.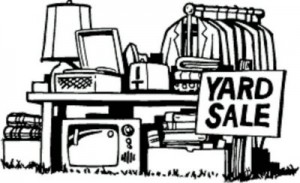 Display Items Systematically
People like organized places, so try and keep your moving sale as organized as possible. Set items with similar uses next to each other. This will help your customers find items they need without having to dig through boxes or missing the items altogether.
Set tables out and place smaller objects in the front and larger objects in the back. You should also hang pictures and clothes. When people can look through items freely, they'll see and buy more. Clearly designate prices. Often people don't want to ask "how much does this cost" more than once. So make sure each of your items have a visible price tag.
Creating a clean, welcoming atmosphere will help you sell more. Therefore, create colorful signs, play music, and hang balloons. This atmosphere will help attract and maintain visitors as they look through your items.
Once you have your moving sale set up, sit back and let the people come. You should also consider hiring a moving company with the extra money you earn to make the moving process that much easier.