How to Avoid Rogue Movers
Approximately 3,000 Americans experience moving fraud every year. Don't be one of them.
Each year, Bekins successfully relocates approximately 30,000 households, a testament to our trustworthiness and commitment to client satisfaction. Avoid becoming another statistic in moving fraud. Keep reading to discover effective strategies for eluding relocation scams.
Bekins Van Lines Protects Against Moving Scams
Customers have rights when it comes to moving. Bekins Van Lines wants to make sure you know those rights before choosing your mover. That's why we hand out copies of helpful documents from the Federal Motor Carrier Safety Administration (FMCSA) to every customer and include links to them on our website:
Tips on Finding a Legitimate Moving Company
If you're unsure if you're dealing with a moving company scam, here are a few ways to check if a moving company is legitimate:
LEGITIMATE MOVERS & BROKERS: FMCSA

Authentic moving companies and brokers operating interstate transportation of household goods are duly registered with the Federal Motor Carrier Safety Administration (FMCSA). You should anticipate being provided with the following information:
Get Peace of Mind with Your Movers: Relocate with Bekins.
Bekins Van Lines is a certified ProMover through the American Trucking Association. We uphold the ethical and professional standards of the organization, which provides customer service agents to help resolve any disputes involving ProMovers. 
If you have any questions about how to get started with a professional moving company like Bekins, get in touch today.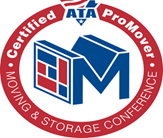 Frequently Asked Questions