Moving companies aren't all that different, are they? After all, it's simply a matter of hiring able bodies and a truck to move your items from one place to another – right? Unfortunately, choosing a moving company isn't quite this simple. Most people only hire movers a few times during their lifetime and aren't aware of the potential dangers of hiring a rogue moving company. 
Rogue movers are an increasingly troublesome (and expensive) problem in the moving world. Bad actors can use a variety of tactics to scam you out of money and turn your move into a nightmare. Avoid moving scams by learning about the ways rogue movers operate and how they could take advantage of you during your move.
What Could Go Wrong?
How about paying two or three times what you expected for your move and having to sleep on the floor for two months? That's what happened to this single mother while relocating from Wisconsin to Texas. Leticia hired what she believed to be a reputable moving company and made a deposit of $979 toward a $2,798 estimate. When moving day came, she was told she owed another $1,200 for "packing materials" despite the fact that she had packed everything on her own. 
The company loaded her belongings and headed south for Texas. Or so she thought. When the movers did not show up on the scheduled delivery date, she called the company, but no one would help. She filed a complaint with the Better Business Bureau (BBB) and finally received her things two months later. 
The two men who unloaded the truck were hired temp workers who demanded a money order for another $1,300 and refused to help her assemble furniture. Many of her items were broken or missing, including irreplaceable photo albums. She also found things that belonged to other people mixed in with hers. 
Leticia filed a complaint, but the company had no physical address or actual office. Despite having 12 other complaints against them, the rogue moving company had quickly disappeared. 
7 Common Moving Scams 
Leticia's story isn't unique. Thousands of moving customers get scammed every year. To avoid moving fraud, be aware of the ways a rogue moving company could take advantage of you. Here are seven common scams they might try:
1. Bait and Switch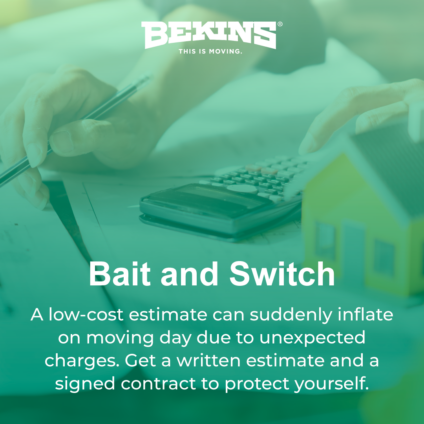 Your bad actor movers might initially provide you with a low-cost estimate, but on moving day, they will inflate the price significantly. This can come in the form of additional services or hidden charges that you never discussed. We've heard of situations as ridiculous as movers claiming that a customer's door is too far from the street. Always get a written estimate and have a signed contract.
2. Hostage Belongings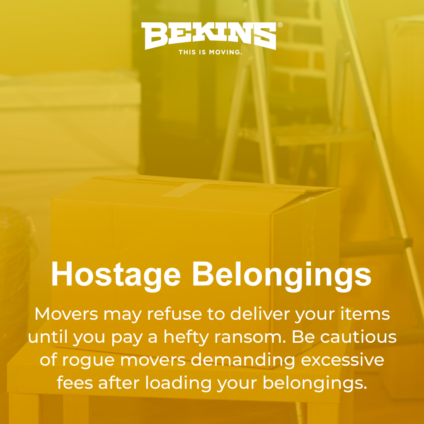 After loading your belongings onto the moving truck, rogue movers might refuse to deliver your items until you pay an exorbitant amount of money. Movers may disappear and hold your possessions hostage until you meet their demands.
3. Damaged or Missing Items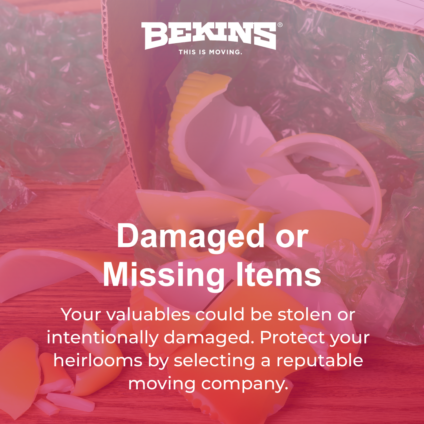 Rogue movers might steal, mishandle or intentionally damage your belongings during your move. As in the example above, this could leave you without furniture or valuable family heirlooms. 
4. No-show Movers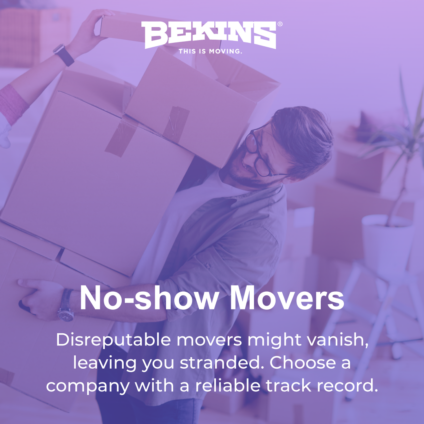 In this scenario, the rogue operators fail to show up on the scheduled moving day, leaving you stranded with your belongings packed and no means to transport them. They may also disappear after loading the items, never to be seen again.
5. Unlicensed and Uninsured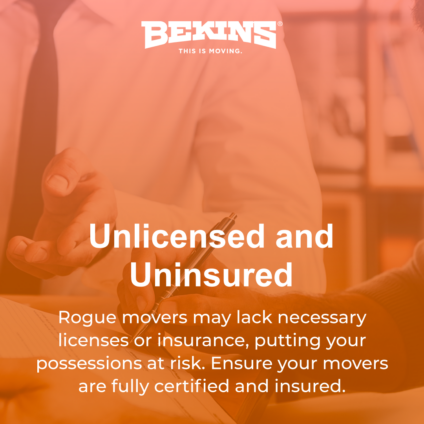 Rogue movers operate without the necessary licenses or insurance, putting you and your belongings at risk. In case of accidents, damage, or theft, you have no recourse for compensation or recovery.
6. Unauthorized Subcontracting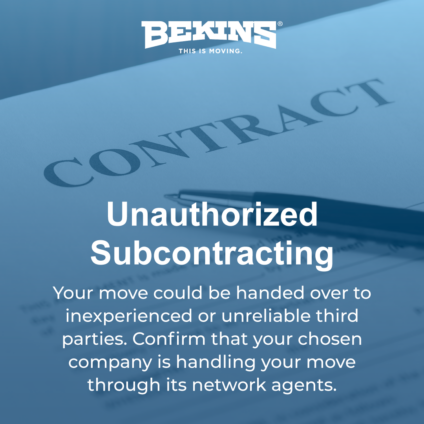 Rogue movers might subcontract your job to other inexperienced or untrustworthy individuals or companies without your knowledge or consent. You might have a completely different company show up on moving day and receive subpar service as a result.
Keep in mind: subcontracting is different from utilizing an agent network. For example, Bekins works with hundreds of independently owned and operated moving companies across the country to provide our services. These are our agents, and they help make us a full-service moving company. 
7. False Reviews and Credentials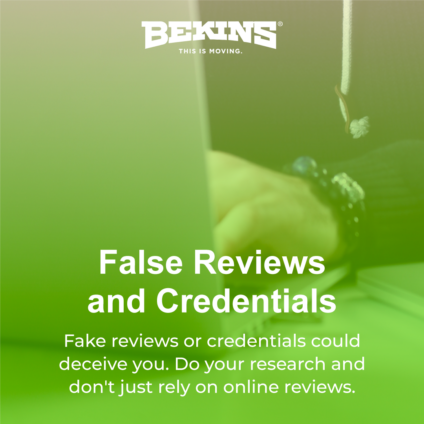 Some rogue movers create fake positive reviews or display fraudulent credentials to appear legitimate and trustworthy. This deceitful practice can build a false sense of trust before they scam you later. 
How Moving Company Scams Start
Finding a professional moving company usually starts with an online search. While looking, you've probably seen ads from a variety of moving companies promising free estimates and low prices. If you visit their webpages, you will see what looks like a legitimate business with an impressive list of 5-star reviews. 
The frightening reality is that many of these companies are fakes. They can put up a new website in a day and garnish it with a long list of (fake) five star reviews. They take advantage of as many interested parties as they can and then disappear, only to pop up under a new name the following week. These operators will be professional, helpful and respond to every question – until they have your money. 
The most important rule of thumb: If it seems too good to be true, it probably is. Discount prices are a likely sign that something is wrong. A discounted rate with a large up front deposit is an absolute sign that you are working with a rogue mover.
How to Avoid Moving Fraud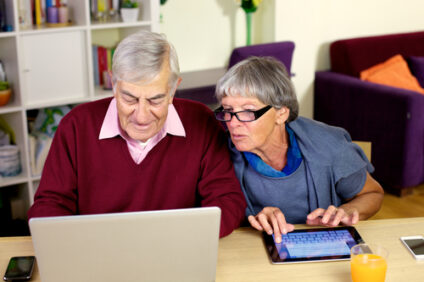 Research: Spend time researching moving companies to gather information about their reputation and experience. Look at trusted sources such as the Better Business Bureau (BBB), online review platforms such as Google that verifies customer identities, and consumer protection websites. The Federal Motor Carrier Safety Administration (FMCSA) is a good resource to verify reputable movers, especially through its registered mover database (just make sure you're looking up the interstate organization's name and license numbers as opposed to the local organization's name or license number; for instance, you'll find Bekins Van Lines by name through the list but not our local agents because they are licensed for interstate moves through their association with Bekins).
Obtain multiple quotes: Request quotes from at least three different moving companies to compare prices and services. Be cautious of unusually low estimates, as they could be a red flag for potential scams. Make sure the estimate includes all services, fees and any potential extra charges.
Verify credentials: Ensure that the moving company is properly licensed and registered with the appropriate authorities. You can check the licensing information with the U.S. Department of Transportation's Federal Motor Carrier Safety Administration (FMCSA) or relevant local authorities, depending on your country.
In-person or virtual surveys: Reputable movers generally provide a detailed estimate after conducting an in-person or virtual survey of your belongings. Avoid companies that only offer quotes over the phone without assessing your possessions, as that is a violation of FMCSA rules.
Avoid large upfront payments: Be cautious if a moving company demands a large deposit or requires full payment upfront, and never oblige if movers ask for money before they'll load the truck. A legitimate moving company typically requires a modest retainer or payment upon delivery and will always request a reputable payment method such as credit card.
Read the contract carefully: Before signing any agreement, thoroughly read and understand all terms and conditions, including any fine print. Pay attention to clauses related to cancellation fees, insurance coverage and dispute resolution. 
Valuation protection coverage: Inquire about the moving company's valuation protection policy and what it covers in case of loss or damage to your belongings during the move. For instance, the government-mandated 60 cents per pound per item coverage guarantees customers only $6.00 for a 10-pound television in the event of loss. Most legitimate moving companies offer full (replacement) valuation protection offerings to help make up for loss.
Avoid generic branding: Legitimate moving companies will have well-marked vehicles. Watch out for moving trucks or vans that lack proper branding or company logos. If a moving truck with no logo, or a different logo than the company you hired shows up on your moving day, it's likely a scam company. Many interstate moving companies have partnerships with other interstate brands, but, even so, the logo of the company you hired should appear somewhere on the truck.
Trust your instincts: If the pricing seems too good to be true, trust your instincts. If a moving company's practices or behavior raise concerns, it's best to seek services from another reputable mover. 
Seek recommendations: Ask friends, family or colleagues for recommendations of moving companies they have used and had positive experiences with. Personal referrals can provide valuable insights and help you avoid opportunists. 
Report suspicious activity: If you encounter a rogue mover or suspect fraudulent practices, report the incident to local law enforcement authorities, the FMCSA or consumer protection agencies. By doing so, you can help protect others from falling victim to similar scams.
Avoid Rogue Movers
The best way to avoid moving scams and ensure your move goes smoothly is by hiring an established moving company with a proven record. Bekins has been helping families and businesses move for more than a century. We take pride in our reputation, and we'll do everything we can to make your move go right. Get in touch with Bekins today and start with an accurate moving estimate with no strings attached.