Bekins is the Residential Mover for You
Household & Residential Moves
When moving your family, you want professional movers who know exactly what they're doing. Movers who have the expertise and the track record to back up their promise of a hassle-free move. For that type of experience, Bekins is your team.
Our residential movers provide both local and long distance moving services. So whether you are moving in-city or out of state, Bekins has you covered.
Bekins is one of the nation's leading residential moving companies because we sweat the details so you don't have to—which is why we've been around for 125 years. We're residential movers you can trust.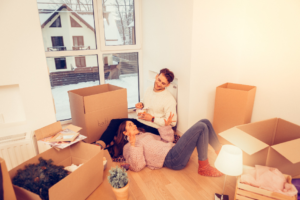 We offer a variety of moving services to fit your needs and your budget. A few of our residential moving services include:
As your trusted residential mover, Bekins commits to treating your belongings with the utmost care and lightening your stress on moving day.
We'll arrive on-site to oversee all technical aspects of your move, from packing your fine china to getting your sofa out the door and to your new destination. You can even receive a free estimate before we start the job.
Frequently Asked Questions
What People are Saying About Bekins

We had a great delivery experience with Zack and Quade. They were punctual, hard working, professional, and friendly. They also took excellent care of our belongings. Thank you!
Cari – August 16, 2021