Interstate Moving: What to Expect When Moving
Things to Know When Moving Interstate with Bekins Van Lines
Bekins has specialized in interstate moving for more than a century. During our time in the industry, we've learned what works best, how our customers prepare for their move, and what they can expect during the process. The bottom line? Our experts will provide you with a simple and stress-free move.
Whether you're questioning where to move, how to move, or what to move, Bekins is your number one resource when moving across state lines. To ensure a smooth experience, you'll work directly with your local agent throughout the duration of your move.
Your Move with Bekins in 8 Simple Steps:
WHAT TO DO WHEN MOVING INTERSTATE: GET HELP FROM THE EXPERTS
When you move with Bekins, you can relax on moving day knowing that the hard work is left to the professionals. For example, our team does everything we can to keep your belongings and home safe and damage-free during the move.
When your Bekins driver arrives, they will visualize how your belongings will best fit in the truck. The driver and their crew will prepare your house by following these steps:
Protect the floors and doorways
Use the inventory form to document the items and their condition
Wrap furniture pads (specially designed blankets) around your furniture to protect it from damage
Protect overstuffed furniture in stretch wrap to prevent damage
Load protected belongings into the truck
Ask you to sign paperwork such as the Bill of Lading, High Value Inventory, and Inventory, for example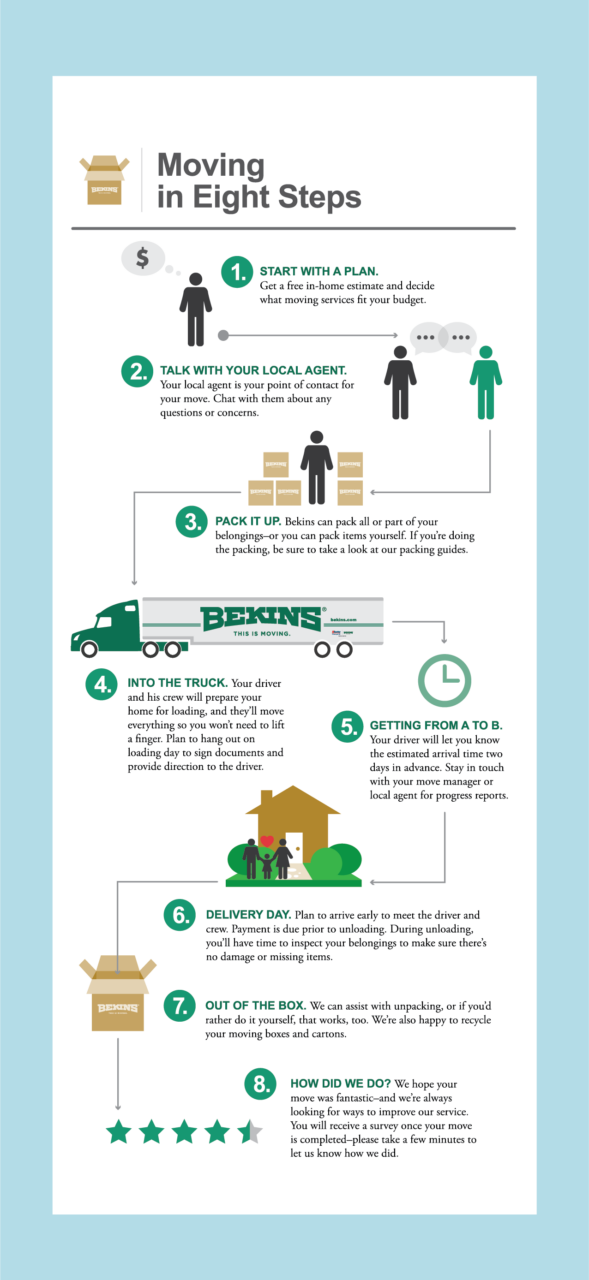 HOW LONG DOES THE MOVING PROCESS TAKE?
It can be difficult to know what to expect when moving. With a long to-do list and an uncertain timeline, it's often a stressful experience! But at Bekins, we do everything we can to make sure the process is clear, so you aren't left with any surprises. Here's how Bekins Van Lines will support you during your interstate move:
Planning Your Move
Planning appropriately is essential for your move. The first step in your moving process is to get a free estimate. Once that is complete, you can decide which available services best fit your moving budget. It's best to contact Bekins with as much notice as possible before you move—it's ideal when we can provide an estimate five to six weeks before your desired move date.
Working With a Move Manager
Your move manager is your point-of-contact for any questions or concerns about your move. They'll oversee the process from start to finish all while working directly with moving agents, drivers, loaders, customer service representatives and you.
Bekins move managers are available for consultation at any point during the process. And remember, you can always check out our moving guides and FAQ page for tips and answers to commonly asked questions.
Packing
Packing correctly is critical for keeping your items safe! Bekins offers optional expert packing services, but if you decide to pack your belongings yourself, we suggest you take a look at our packing guides. If you decide to use our packing services, explore our protection and valuation options.
Loading
You can count on Bekins to take care of all your truck loading needs. We'll take special care of your fragile items to ensure they'll be safe for the entire trip. Depending on the size of your home, loading can take anywhere from a few hours to a full day.
Be sure to share your travel plans with your move manager. It's important for you to be present during the loading process so we can provide you with a detailed inventory list.
In-Transit
Your local moving agent can answer any questions you might have about the progress of your belongings toward your destination. Depending on the distance of your move, transit can take as little as a day or as long as a few weeks. We also offer storage-in-transit options if necessary.
Delivery, Inventory and Payment
The mover will usually give you a 24-hour advance notice of when it plans to arrive with your shipment. At that time, you must be available to accept delivery or your shipment could be placed in storage at your expense. Once the truck arrives at your destination, payment is made prior to unloading. It will be up to you to inspect your belongings to ensure there's no damage, nothing was missed and that everything you expected to be delivered made it to the destination.
You can pay for your move any time prior to unloading at your destination with cash, money order, traveler's check, certified check or cashier's check. Or, with prior credit approval, you can charge the cost of your move to your personal credit card. Bekins gladly accepts MasterCard, Visa, Discover and American Express.
Unpacking
Your Bekins driver and crew are more than happy to assist with unpacking as well as recycling all moving boxes and cartons. Of course, you can unpack items yourself, but it can be much easier to have professional unpacking services at the end of a long moving day!
Feedback on Your Service
Your feedback is important to us! Our goal is to leave our customers completely satisfied. Once your move is complete, we encourage you to let us know how we did as we're always looking to improve our level of service.
Like what you see? Get started with your Bekins move!
If you're unsure of what to do when moving interstate, start by getting in touch with your local Bekins agent! We look forward to making relocation a simple process for you and your family.