Bekins Moving and Storage Services
No Matter Where or When You Need to Store Your Belongings, Bekins Van Lines Has You Covered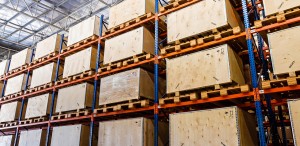 Oftentimes, moving requires more than just packing your items into boxes and transporting them across the city, state or country. Depending on your moving date, closing date and travel plans, you may also need reliable storage services to keep your items safe. Whether you're waiting to close on your new home, preparing to sell your old place or simply looking for a space to store some extra belongings, Bekins has the solution for your stuff. Our expert team has the ability to cover all of your moving and storage service requirements!
At Bekins Van Lines, we offer cost-effective, secure moving and storage services. There are plenty of local moving and storage companies to choose from. However, none of them are quite as reliable, efficient, and trustworthy as Bekins! We have warehouses located across the country, so no matter where you are and where you're headed, Bekins can store your belongings safely.
What Kind of Storage Options Does Bekins Offer?
Get Safe and Dependable Moving and Storage Services You Can Rely On
No matter what or how long you're storing with Bekins, you can rest assured that your belongings will be safe. Many of our facilities meet the high security standards set by the US military and government.
We offer an array of moving and storage services to fit your specific needs. Storage services we offer include but are not limited to:
Long-term Storage Units and Services. When you need your belongings back, all you have to do is give us a 24-hour notice to return your belongings in pristine condition.
Short-Term Storage Units and Services. When you need your belongings back, all you have to do is give us a 24-hour notice to return your belongings in pristine condition.
Storage-in-Transit For Up to 180 Days. If you initially choose our storage-in-transit services but need to store items for more than 180 days, just contact your local moving agent for help.
The Bekins team is also available to pack your belongings before you store them, especially items that are particularly prone to breaking. We'll wrap them securely so that when you retrieve your items, they'll be in the same condition you left them in. If you're looking for a reliable moving and storage service company near you, Bekins should be top-of-mind!
How Do I Find Moving and Storage Companies Near Me?
Get in touch with Bekins today—We're Your Go-To For All Your Moving & Storage Service Needs.
When you need reliable storage services in your area, think of Bekins! We commit to meeting your needs, no matter how unique they are. The search for local moving and storage companies ends here because Bekins has you covered. Questions about your helpful storage services? Ready to get started with storing your belongings? Get in touch with us, or feel free to look up a local moving agent who can help you immediately!
Frequently Asked Questions
When storing items during your move, it's obvious that you want to make sure the storage unit is big enough. However, you also want to ensure it's not too big because you don't want to spend unnecessary money. To find the right size storage unit, start by multiplying the length, width and height of your items. If your bigger items create a pile larger than 5×5, you know you'll need a storage unit that is at least 25 square feet. If you have more questions about what type or size of storage you need, get in touch with Bekins. We're more than happy to assist you and answer any questions you may have.
Yes! We are a full service moving company. This means we pack, store, move and deliver your belongings for you. Whether you want our help from start to finish or you just want to store your items with us, we'll provide reliable and exceptional services for your move.
Bekins provides climate-controlled, locked, clean and secure storage options for your move. We have storage units across the country that are well-lit, equipped with an access gate and monitored 24/7. With us, you can be confident your items are safe when you store them with one of our storage partners.
Bekins has three different types of storage options for your move, depending on how long you need to keep your items with us: long-term storage, short-term storage and storage-in-transit. With long-term storage, you can store your belongings with us as long as you need. All you have to do is give us a 24-hour notice, and we will return your belongings to you.
Here are a few tips to get you started with packing your storage container:
Create box walls. You should pack your boxes from floor to ceiling before moving to the next stack of items.
Pack the boxes close together. This will decrease the chances of them moving and shifting during the move.
Start with the heavy stuff. Get all your heavy items, like appliances and furniture, in the container first. If possible, try to distribute the weight evenly in the container.
Deconstruct as much as possible. Take apart shelves and remove legs from furniture, for example.
The amount that Bekins Van Lines charges for storage depends on how long your items will be stored, what type of items you have and how many belongings you need stored. However, you can estimate that we will charge approximately $70 per storage vault. If you have questions about our storage services, contact us today. We are happy to answer your questions.