The History of Bekins: 125 Years of Expert Moving
History
As one of the oldest moving companies in the United States, Bekins Van Lines has survived from generation to generation for a reason: unrivalled expertise and a commitment to customer service.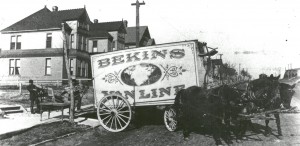 Founded by brothers John and Martin Bekins in 1891, Bekins began operations in Sioux City, Iowa, with just three horse-drawn vans and twelve employees. Since then, we've grown to become one of the nation's largest full-service moving and storage companies with nearly 150 locations throughout the United States. As we've grown, so have our services: Today we specialize in moving high value items and international relocation among other niche areas.
The times have certainly changed over the last 125 years, and to keep up, we've changed along with them. Whereas a strong back and a horse-and-buggy was the primary criterion for movers in the late 19th century, information technology and logistics now define today's moving and storage industry. But one thing has stayed the same: our commitment to expertise, reliability, and worry-free moves.
Over the years, Bekins has been involved with many firsts and important milestones within the moving industry.
Bekins was the first to specialize in moving household goods.
When covered moving vans were introduced, they carried the Bekins name.
Bekins led the moving and storage business away from horse-drawn wagons with the first motor trucks in 1903.
The first concrete and steel warehouses were built by Bekins in 1906.
The first transcontinental motor van move was completed by Bekins in 1928.
In 1960, Bekins established Bekins World Wide, later known as Bekins International.
Bekins became a leader in residential delivery service, later named HomeDirectUSA in 1994.
Bekins led an industry consortium to develop the CPM (Certified Professional Movers) program, a CD-ROM based training module in 1995.
Bekins became the first van line to earn CPM status in 1996.
Bekins is the first van line to install nationwide warehouses and storage management systems to assist in order management and tracking in 1997.
Bekins is purchased by Wheaton Van Lines in March 2012.
Bekins continues to be a worldwide leader in moving. Whether it's household moving, corporate relocation, international moving, military moving, or any other type of long-distance move, we'll handle it with the expertise our customers have come to expect.
The Bekins tradition of innovation, expertise, and excellence continues today. It's shown through our commitment to social responsibility, partnerships, dedication to quality assurance, and exceptional customer service. That's why we've been moving families across the country—and the world—for 125 years.