Today is National Dog Day – my favorite day! I wanted to share my experience about moving with my dog, Lola, and how to prepare for moving pets on interstate moves.
When my fiancée Pat was offered a relocation from Charlotte, N.C. to Indianapolis, Ind., the first thing we thought about was how our dog Lola would deal with the move?
Around three and a half years ago Lola was found as a stray and we decided to give her a home. She suffers from separation anxiety and we knew a move like this would be difficult for her.
Before our relocation, I made an appointment with Lola's veterinarian. I spoke with her about the challenges that we may face when we moved. She suggested she may act out and although it could be frustrating we shouldn't punish her because she is just confused. She recommended that we keep a close eye on her during the moving process and in our new home so she wouldn't run away. We made sure all of Lola's vaccinations were up-to-date and acquired a current veterinarian record to give to our new vet in Indianapolis as well as any boarding/grooming places that require vet records.
I also checked the US State and Territory Animal Import Regulations Web site to verify what to do when moving across state lines. I notified Charlotte Animal Care and Control that we were moving and gave them our new address. I updated the address for Lola's microchip and identification tags, as well, in the event she does run away.
When we were packing all of our stuff, Lola noticed things were changing and this caused her to act increasingly anxious, which we were prepared for. We tried to do our best to make her feel comfortable and increased her daily exercise. This helped tire her out and not act out as much.
When we were loading our household goods onto the moving truck, we arranged for Lola to go to our neighbor's house during this time so she would not be in the way. This is recommended for any household that has pet during a move.
For the ride to Indian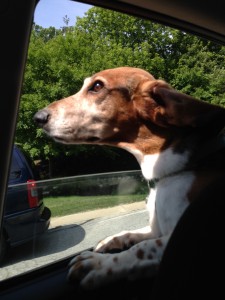 apolis, it was a challenge to figure out what was needed for me and Pat, but also for Lola. We brought her bed, a few toys, bags, a water dish, water and food. With every stop, we made sure she was properly hydrated and well-fed. She slept most of the 10-hour drive. We stayed in a hotel on the way and used Pet's Welcome Web site to determine which places permitted pets.
After 10 hours and a hotel stop we finally made it to our new home in Indianapolis. We allowed Lola to sniff around the house and acclimate herself to the new surroundings. Although we have a fenced-in yard, I still kept a close eye on her to make sure she wouldn't escape. Lola is a notorious escape artist and fences don't always do the trick.  When the movers came with our stuff, I kept Lola out of the way by keeping her on a leash outside.
It took a few weeks of adjustment. She went through a bit of a mourning period (she missed outrneighbor and her dog) and didn't eat. I was worried and consulted with my vet. She explained that this is normal for dogs that experience a drastic change and she would eventually eat when she got hungry, which she did. I made sure that Lola had plenty of exercise by walking her frequently on the Monon Trail, a 13-mile trail in Indianapolis.
We also met our neighbors and let her play with their dog. By talking to our neighbors, we learned about the best places to take Lola, including parks, vets and boarding. We also used Angie's List and Yelp to help find the best pet places around town.
We are all settled in Indianapolis now. Hopefully Lola's moving experience can help you prepare for moving with your pet!
Tell us your story about moving with your pet!
For more about moving with pets, please visit https://www.bekins.com/planning-guides/moving-with-children-and-pets/