You know that your couch, your dining room set, your clothes, and your books will all arrive safely at your new home. These items will stay solidly in place in the moving van, and they'll show up at your front door intact. You don't have to worry about them.
However, you probably don't feel the same way about your musical instruments. These complex and somewhat fragile items could easily sustain damage during a trip across the country, even if the truck operator drives carefully. Instruments cost a lot of money, and they allow you to express your emotions through the language of music. If anything happened to yours, you would probably feel devastated.
Luckily, you can take steps to safeguard your instruments while they travel. Read the guide below to find out how.
Pianos and Organs
Most moving companies train their employees to safely move these instruments.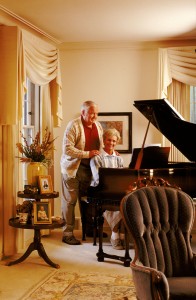 You don't have to worry about their wellbeing during the moving process. You can, however, take steps to prepare them for the move:
Close and lock the keyboard lid, if possible.
Remove any removable parts, like the music stand.
Provide blankets, towels, and lots of bubble wrap for wrapping the instrument. Secure all wrapping materials with packing tape or duct tape.
Put additional wrapping on the legs and pedals.
You can usually trust your movers to do all of the above. But if you want to supervise the process yourself, just follow those steps.
Violins, Cellos, and Other Stringed Instruments
Stringed instruments have more fragility than other instruments, which makes them tricky to ship. You don't want fingerboards, bows, or sound-boxes to crack, but even something as simple as a speed bump could cause that kind of damage. Adverse weather conditions could also warp the wood.
To prevent cracking or warping, take the following steps:
Loosen the instrument's strings a little bit. Don't loosen them so much that the bridge falls over—just loosen them enough that the temperature won't strain them. Cold temperatures will tighten them, while warmer temperatures will loosen them. Leave them loose so these changes won't pull your strings so tight they snap the fingerboard or headstock.
Where applicable, loosen the bow's hairs for the same reasons.
Where applicable, turn all the tuning keys parallel with the headstock so nothing can snap them off.
Add some extra padding. Bubble wrap makes for an excellent solution, but you can also use crumpled paper. Wrap your instrument and your bow in these items before placing them on the case. Do not use shredded paper or packing peanuts because these items could get inside your instrument. You'll have a really hard time getting that back out.
If you don't have a hard case, purchase one. Your instrument will stay safe from moisture and falls this way.
Once you've taken all these steps, very little could keep your stringed instrument from arriving at your new home intact.
Trumpets, Clarinets, and Other Brass or Woodwind Instruments
Luckily, most brass and woodwind instruments have fairly robust parts. However, a ding or dent in even one part could ruin the entire sound. Keep your brass or woodwind safe by doing the following:
Completely take the instrument apart.
Wrap all the pieces in bubble wrap.
Store them in a hard case. If you do not have one, purchase one. If you can't purchase one, wrap the pieces in several layers of bubble wrap and towels. You don't want the pieces to bump into each other or anything else.
These steps may seem simple, but they will help your instrument survive the trip unscathed.
Drum Sets and Other Percussion Instruments
Your drums only need simple protection as well. Simply buy a box a couple inches larger than the drum, then pad the sides, top, and bottom with bubble wrap. If you have larger percussion instruments, like a marimba, depend on your movers to relocate it the same way they move a piano. It will arrive safely.
Use these tips to keep your beloved instrument secure and intact as you move to your new home. Check out the rest of our blog for additional moving tips.