You unpack the last moving box, open a bottle of champagne to celebrate, and look around your new space: it still feels empty. You peer out the window, catch sight of your new neighbors, and wish it wasn't so hard for you
to make new friends
. You peek up at the calendar hanging on the wall and see far too many empty days.
There's only one thing to do: plan a housewarming party.
Whether you're new to the neighborhood or new to the state, housewarming parties are the perfect way to branch out, fill your schedule, and entertain new neighbors and friends. If you're nervous, breathe deeply. Use this as an opportunity to develop new skills in the kitchen, new skills in decorating, and new social skills.
Who to Invite?
Are you in a new area? Do you have any friends nearby? Are you part of a religious, academic, or social organization? The people you invite to your social gathering depends on your circumstance.
Start with Who You Know
First, start with people you know. If you haven't moved far, invite old friends, co-workers, and neighbors. These people should want to celebrate your move and help you feel comfortable in your new home.
Be Brave
If you've transferred to an entirely new area, be brave and outgoing. Open up at your new workplace and invite coworkers—promise there will be plenty to do, eat, and drink. Walk around your neighborhood and deliver an invitation with a plate of cookies. Chat with neighbors and ask them to spread the word. Your neighbors will be more inclined to come if they meet you beforehand.
Branch Out
If you have children attending grade school in your new area, go meet the teachers. Become a school parent and meet other moms and dads who volunteer in the class. The more you branch out, the better your chances are of meeting new friends and having more people over to celebrate.
How to Decorate?
You don't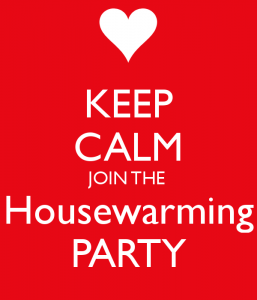 need to spend a lot of money to transform your house into a party-worthy space. Instead, focus on your personal aesthetic and create a space that includes an allotment of seating areas, a mix of music, and plenty of ambient lighting.
Seating
Most people feel most comfortable when there is plenty of seating. Move your furniture around and consider renting extra tables and chairs depending on the amount of people you invite.
Music
Music can make or break a party. Create a mix of old classics and new tunes. Don't choose anything that might make guests run for the door. Make sure to include a few upbeat tracks in case anyone is in the mood to dance.
Lighting
Ambient lighting will help everyone feel more relaxed and comfortable. Scatter candles and string lights throughout your space and turn the overhead lights low.
If you throw your housewarming party in the summer, prepare your yard for entertainment and invite everyone to sip their drinks outside.
What to Serve?
When it comes time to demonstrate your stellar cooking skills, go big. Wow your guests with an assortment of choices both scoopable (pastas and salads) and pickable (kabobs, fruit slices, and bread). When everyone is near-full, pull out all the stops and serve up a delectable dessert: homemade donuts, parfaits, mocha mousse, tiramisù, profiteroles, cannolis, or cheesecake.
Although throwing a successful housewarming party may seem like an overwhelming feat, it doesn't take much to pull it off. Once you know who to invite, how to decorate, and what to serve, most of the work is done for you.
If you're the type who plans ahead and still have weeks before your move, contact your local moving company to get your belongings transferred to your new home in the safest way possible. With Bekins taking care of the moving, you can spend your newly free time planning the perfect party playlist.