When a woman took her family baseball card collection for appraisal, she discovered that saving something for sentimental value can yield big rewards. At the "Antiques Roadshow" taping in August 2014, an expert examined the baseball cards, which feature some of America's earliest baseball players, big names for the Boston Red Stockings in the late 1800s.
Before the appraisal, the owner had turned down an offer of $5,000, suspecting the cards were worth much more-and she was glad she did. The appraiser valued the collection at over $1 million.
But, the sentimental value still trumps the monetary value. The woman has no plans to sell and become an instant millionaire.
Instead, she wants to keep the collection in the family for many more generations.
As a collector, you may understand her reluctance to sell. Whatever you collect, the collection has worth in your eyes not just because of what it's worth but because of what it represents. When you have to move, you don't even question whether your collection will move with you. You just wonder how you'll pack it up so it arrives safely at your new house. If that's a dilemma you face in the near future, use these tips to pack your collection right.
Fragile Items
Many collectors display their collections inside curio cabinets or other prominent locations. They want family and friends to see their special items. If collectors' items are fragile, they want that observation to take place with minimal touching.
That principle applies when fragile collections follow their owners to new homes. Protect your too-easily-broken valuables with these suggestions:
Buy special moving boxes. Many moving companies or shipping stores sell special boxes for common fragile items. These boxes have dividers to cushion delicate collectibles in transit. These boxes commonly fit dishware, stemware, wine or framed photos or art.
Stock up on cushioned packing materials. People rarely have sufficient bubble wrap, newspaper, and packing peanuts when it comes time to put collections into boxes. Start saving these items as soon as you know you're moving. You can also put out feelers around the neighborhood and on social media letting people know you'll take packing materials they get from online orders. Many people throw these materials away, so they probably won't mind giving them to you.
Mark boxes as "fragile." This tip should almost go without saying, but you'd be surprised how many times people forget to mark some boxes as holding fragile cargo. Be meticulous about marking boxes. Write "fragile" on more than one side as well as the top. And while you're at it, note which way is up to avoid damaging the items with tipping and flipping.
Another way to ensure your fragile collection arrives safely is to use professional movers. Movers take care with every box they pick up, transport, and set down, even boxes not marked as "fragile." If using Bekins Van Lines, talk to your local agent about the precautions that will need to be taken to protect your collection.
Large Collections
Some collections are notable not just for the individual value of each item but for the total items in the collection. If you own 500 snow globes or 200 Madame Alexander dolls, you know what we mean.
The challenge with large collections becomes packing each item with the same care. You also have to gather sufficient packing material for each part. Try these tricks to pack large collections:
Use original boxes whenever possible. Many collectibles come in boxes with custom Styrofoam that fits perfectly around the item. If you still have that packaging, take advantage of its original purpose and put your items back inside for the move.
Pack boxes to a reasonable weight limit. With a large collection, it's tempting to put as many items as you can in the least number of boxes necessary. But, as any book collector knows,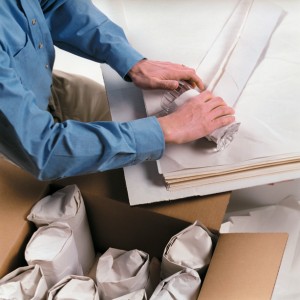 that can yield heavy boxes that are hard to lift and easy to drop. Limit most boxes to 30-40 pounds, if possible. Try to keep each box under 50 pounds.
Pay for professional packing services. You might not have time to pack every item in your collection personally. You have a lot to handle during a move, so ask your mover about professional packing services. Trained movers will handle your items with care, so you won't have to oversee the packing process.
Oddly-Sized Items
Are you a cinema buff who owns original props from your favorite film franchise? Are you bringing your collection of igneous rocks to your new home? Unique, organic, and oddly-shaped collectibles like these rarely come with original packaging to simplify the moving process.
If your collection has strange or one-of-a-kind items, first decide if you want to personally move the ones you value most. You might experience less worry if you bring great-grandpa's phonograph in your car instead of packing it with everything else.
Next, get an estimate on the price of custom-fit foam packing. The extra expense might be justified on your favorite pieces. Plus, you'll always have it whenever you need to transport the item later.
Finally, ask a professional moving company how they'd recommend packing unique items. Decide whether you feel comfortable packing it yourself. If not, put your collection in the hands of the pros. Remember, a little extra moving expense is minor compared to the cost of trying to repair or replace a rare collectible.
However you decide to pack your collection, using these tips will help your priceless items arrive at your new home safely.
Relying on professional packing and moving services can alleviate your worries about your collection and allow you to concentrate your energy on other moving considerations.