Setting prices for your yard sale can be tricky. Price your belongings too high and you won't sell everything; sell for too little and you won't make as much as you could have even if you do sell everything! The trick to pricing your yard sale items properly is research, accurate categorization and organization.
Whether you're downsizing before you move, getting rid of old toys and clothes, or simply trying to live a more minimalist lifestyle, a garage sale can be a great way to get rid of your stuff. Follow our three tips on optimizing your yard sale prices.
How Should I Price My Yard Sale Goods?
1. Research Before You Price Your Garage Sale Goods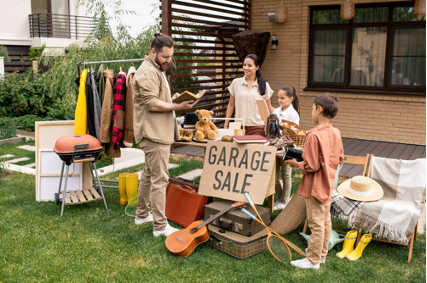 Before you get out the stickers and markers and start pricing all of your belongings, it's important to do some research first. Here's what we recommend:
Make a list of everything you plan to put out for sale. You don't have to list individual book and movie titles, but you should know what categories of items will be up for grabs.
Browse similar sales. Search on Facebook Marketplace or stop by yard sales in nearby neighborhoods and visit local thrift stores to look for items comparable to those you plan to sell—make a note of the prices.
Note of caution: do not make purchases on these research shopping trips. Remember, your goal is to get rid of stuff!
2. Price Your Items by Category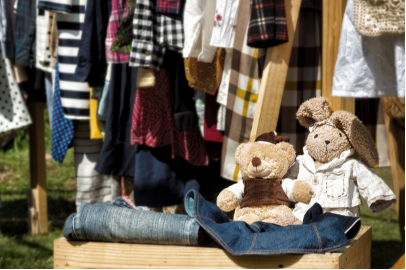 Once you finish your research, you're ready to price your stuff. If you're still unsure of how to get started, follow these guidelines of the categories of goods that often get purchased at moving sales as a starting point:
---
Paperback books: $1
Hardback books: $2
CDs: 50¢
Cassette tapes: 25¢
Vinyl records: $1 to $10
DVDs: $1
VHS tapes: 50¢
Board games: $2 to $5
Jigsaw puzzles: $1 to $2
Toys: $1 to $3
Baby clothing: $1 to $3
Children's clothing: $2 to $5
Adult clothing: $5 to $10
Shoes: $5 to $10
Coats and jackets: $7 to $15
T-shirts: $1
Coffee tables: $20 to $50
Loveseats: $50 to $150
Couches: $75 to $300
Dining tables: about $100
Dining chairs: $15 to $30 each
Dressers: $30 to $75
End tables: $25 to $75
Bookshelves: $15 to $50
Baby furniture: $25 to $100
Lamps: $5 to $20
Wall mirrors or artwork: $30 to $100
Picture frames: $2 to $10
Home décor knickknacks: $1 to $5
China: $1 to $5 per plate
Dishes and glasses: 50¢ per piece or $5 to $30 for a set
Flatware: 25¢ per piece or $5 for a set
Kitchen supplies: $1 to $3
Small appliances: $5 to $20
Medium appliances: $25 to $150
Large appliances: $100 to $400
---
Keep in mind that your prices should depend on the condition and original value of the items as well. For example, you could raise the base prices for new, name-brand clothing. You could also charge less for a plywood bookshelf than a real wood shelf.
If you have several items in a single category, let people buy those items in bulk for a small discount. For example, if you have a lot of baby clothes, pack them into bags and offer them at $15 per bag.
3. Mark Prices Clearly and Carefully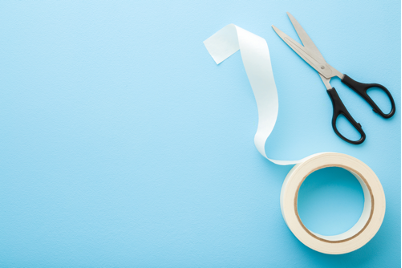 After you work out your pricing scheme, start marking each item individually. Mark the prices with masking tape or painter's tape rather than stickers. Stickers tend to stay stuck once applied, which could damage your stuff and decrease its value.
If you have dozens of items in one category, consider writing the price for that category on a sign and place it near the items. This'll save you time so you don't have to write the price on each individual item. It'll also make your yard sale easier to browse through!
Host Your Yard Sale, Then Make Your Move with Bekins!
With the tips above, you're ready to host a garage sale and get rid of some of your stuff before you move. If you need more help with organizing your moving sale, check out our tips for organizing a profitable moving sale!
Or, if you're ready to move and you need help relocating the belongings you didn't sell, get in touch with Bekins. Our moving experts will make sure your move goes as smoothly as your sale!