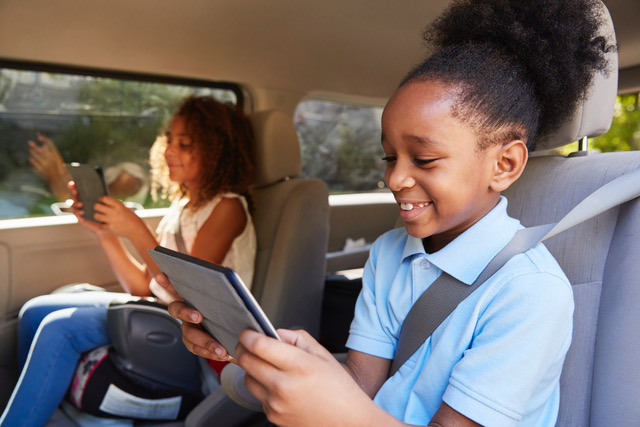 There are several things you can do to keep your children happy and occupied if traveling by car or
plane. An activity kit with a fully-charged tablet, headphones, portable charger, crayons, paper, several books and a deck of cards will help to keep your children entertained for hours. Dressing your child in layers will keep them comfortable during the day's fluctuating temperatures and packing healthy, travel-
friendly snacks will prevent anyone from getting too hungry.
If you're moving by car, road trips can be a great family bonding experience. We have a few tips to help make your move memorable, in a good way.
1. Prepare to Stop, Often – Your child may need to stop for a variety of reasons. Be prepared to pull over for frequent restroom, stretching and food breaks. Build time into your schedule for extra breaks.
2. Stop to See the Sights – If you have time, stop to visit a few attractions along your route. It will give your family a chance to explore and provide a great photo opportunity for the family photo album.
3. Play Classic Road Trip Games –"I Spy" and the "license plate game" are perfect for a road trip, especially with children. There are many more great road trip game ideas available via a Google search.
Air travel can be hectic, especially when traveling as a family. The tips below can help your family have a pleasant flight.
1. Fly Early – Early flights are best for avoiding air traffic delays. These flights also tend to be less crowded, which can help put your children at ease.
2. Review Security Procedures with Your Children – Let your children know what to expect during the TSA security process. Children 12 and under can leave their shoes and light jackets on during the security process.
3. Bottles Help During Takeoff and Landing – Pack a few bottles if you're traveling with infants or small children. Flight attendants recommend giving your baby or small child a bottle during takeoff and landing, as drinking the bottle helps to equalize the pressure in the baby's ears. For older children and adults, chewing gum and drinking water are great ways to help.
Moving and traveling as a family can be a wonderful adventure. To help make your family move a pleasant experience, contact a Bekins agent to learn more about how our family can help move yours.