Moving and Storage Leader and Innovator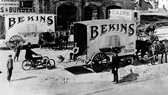 Bekins celebrates 120 years in the moving and storage business.  We began operating with a few covered wagons in 1891 and have grown into one of the most recognized names in the van line industry.
Did you know Bekins is the innovator of many of the standard moving programs being used today?  We were the first to offer a true guaranteed price called Bekins "No Excuse Price".  We were the to offer guaranteed pick up and delivery dates.  The first to offer full valuation transit protection call "For All It's Worth" which included pairs and sets coverage.  We've moved families for generations.  Contact us today for a free moving quote.