Widely known as the Entertainment Capital of the World, Las Vegas is the city that never sleeps.  Chock full of casinos, hotels, five-star restaurants and wildly popular entertainment shows, this city literally always has something going on.  While at first glance, Las Vegas might not seem like a family-friendly city, there is definitely an abundance of attractions for families as well as adults.  Read on for some information on top attractions and restaurants as well as Las Vegas moving companies that can help move you and your family to Vegas.
Las Vegas Restaurants
If you're coming to Vegas for some delicious and delectable food, you'll find that there really
is no shortage of tantalizing tastes for your tongue.  A favorite of locals, visitors and foodies is Lotus of Siam.  This restaurant serves traditional (and delicious!) Thai fare. Don't know what to order or aren't familiar with Thai food? We suggest the drunken noodles.
If you're looking to splurge in Vegas – and to be frank, where's there a better place to splurge than Las Vegas? – look no further than Joël Robuchon. Located in the MGM Grand, this is opulence at its absolute best.  You can opt for the 16-course 'Menu Degustation' or if you're not feeling quite that hungry, you're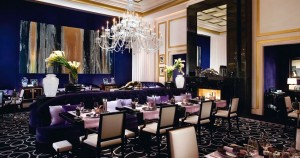 welcome to order a la carte.  Patrons of the restaurant rave about the bread and dessert cart that come around throughout the meal as well as the impeccable service.
Las Vegas Entertainment Options
After you've sufficiently filled your stomach with delicious food, you're ready to head to one of Vegas' many shows.  While there are literally hundreds of entertainment options on the Strip and throughout the city, here are a few of Bekins' favorites:
Fountains of Bellagio: Not only is this an impressive show, but it's also one of the few free options in Las Vegas, and it happens frequently! During daytime hours – 3:00 p.m.-7:00 p.m. – there is a show every half hour.  Once nighttime hits – 7:00 p.m.-12:00a.m. – the show occurs every 15 minutes.  Watch as the water leaps and bounds, choreographed in cue with familiar songs.
Celine Dion: There's no doubt that Celine Dion is one of the most revered vocalists and entertainers that has ever lived.  With musical hits spanning several decades, Celine returns to Las Vegas with a more intimate show, performing some of her greatest hits as well as paying homage to some of the greatest songs and artists of all time. And yes, she does sing "My Heart Will Go On".
Michael Jackson ONE: Cirque Du Soleil presents this amazing tribute to the King of Pop and his music.  With the signature acrobatics that Cirque is known for, this show is a moving portrayal of Michael Jackson's greatest hits.
Of course, Las Vegas offers entertainment experiences that are second to none.  It goes without saying that there are hundreds more restaurants, entertainment venues, attractions, and casinos to explore.  So, why not move to Las Vegas and get a first-hand look at all the city has to offer?
Bekins Moving Companies
Luckily for you, Bekins Van Lines has a strong presence in the western part of the United States, with a full-service moving company in Las Vegas.  Founded in 1891, Bekins Van Lines is one of the oldest moving companies in the United States.
Las Vegas Moving Company 1: Bekins A-1 Movers located in Las Vegas
Be sure to keep up with the rest of Bekins' travels across the country, including visits to Denver, San Diego, Orlando and more.