Once you have hired a moving service, you will have to decide whether to purchase additional services, and one of those services is packing. Packing is a tedious task that can be done for you, or you can do it yourself. Regardless of what you choose, here is the compiled a list of frequently asked questions when it comes to packing.
What packing services does Bekins offer?
Bekins offers a variety of packing services:
 Full-service packing, crating and unpacking
 Packing only difficult and/or fragile items
 Special packing for sensitive home electronics
Advice and quality packing materials
Of course, you can pack you own belonging and Bekins agent can offer suggestions and a full line of packing materials at competitive rates.
All Bekins movers are trained to handle your belongings with the utmost care and attention. To obtain packing materials including boxes, your local Bekins agent can provide these at competitive rates.
Can I leave the items in my dresser drawers?
Yes, you can leave clothing in your dresser drawers if your shipment will not need storage. If you will need storage at one of Bekins' agencies, we recommend that all items in your dresser drawers be packed. We also recommend that all non-clothing items be packed, regardless of your storage needs.
Will the mover load the boxes that I packed?
Yes, the driver will load the boxes that you packed as long as the driver deems them safe for transport. Please note, the liability coverage for boxes that you pack yourself is not the same as the liability coverage available to you for carrier-packed boxes.
Can I pack and move my plants?
Typically, it is not advisable to move your plants. Most professional movers will only accept plants if the shipment is not going more than 150 miles and/or delivery will be within 24 hours. In addition, if you are moving across state lines, check with federal and state regulations for quarantines or other restrictions. Several states even require that plants be inspected and declared "pest free."
What items cannot be packed?
Bekins wants your belongings to arrive at your new home safe and sound.
That means not moving certain items. Aerosol cans and hazardous materials are unsafe for transportation on a moving van. In addition, perishable items and those of personal importance are recommended for your individual transport. Read our comprehensive list of What Not to Pack.
How should I move my jewelry a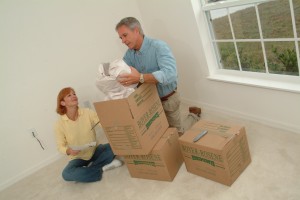 nd other valuable items?
Bekins recommends you do not pack or ship your fine jewelry, precious metals, important papers (titles, tax forms, bank books, deeds, etc.), medical and dental records, prescriptions, coins, currency, stock certificates, notes or bonds. These items should be carried with you during your move.
How should I prepare my appliances?
All major appliances (washer, dryer, refrigerator, freezer, stoves, etc.) should be properly disconnected before the mover's arrival. An authorized service firm can disconnect and prepare each appliance for transport. All refrigerators and freezers should be defrosted, cleaned and dried before the movers arrive. For more information, visit our how to move appliances page.
Will Bekins move my automobile?
Yes, Bekins has the capability to transport your automobile. There are several options for this service, including in-van service or use of a third-party carrier. If you elect to use in-van service, your automobile will be transported on a Bekins moving truck with your household goods. You can also elect to use a third-party carrier to transport your vehicle. Whichever option you choose, your local Bekins agent can arrange this service for you.
How will my mirrors and pictures be protected and packed?
Your local Bekins agent can pack all of your mirrors and pictures using specially designed cartons and wrapping materials to provide maximum protection for your goods.
What type of protection options do my belongings have during transport?
Bekins offers different levels of valuation options for your belongings. These options are not insurance, but provide for protection of your goods during shipping. Learn more about Bekins Valuation options.
Want to learn more? View all of our packing tips.
More packing resources: