Boxing up items like books, kitchen utensils, and clothing is relatively easy because you know the contents are likely to stay safe inside a sealed box. Irregularly shaped or delicate items are trickier, and these are more likely to suffer damage during the moving process. Everyone has property that is more difficult to move. Here are the top five most commonly damaged items when moving and tip on how to protect them from harm.
1. Musical Instruments
Musical instruments often have delicate parts and bulky cases that are hard to properly fit into a cramped moving van. Unless you're just moving down the street and can carry the instrument easily on your own, you need to fully prep your instruments for moving day. Make the following preparations:
Loosen strings on instruments like guitars and cellos. This will help prevent temperature changes and humidity from stressing the strings. Wrap your instrument carefully in bubble wrap, even if it has a fitted case. There is still a little room in cases for the instrument to jostle about. Bubble wrap will protect the finish and also provide insulation from cool temperatures.
Pack your mouthpiece separately, taking it with you in a bag with other personal items.
Use the right case for your instrument if it is available. If it is not, pack your instrument in a cardboard box that is fully lined and filled with packing peanuts, shredded paper, or another filler. Never pack two instruments in the same box.
For larger instruments like a harp, bass, or piano, it's best to contact professional instrument movers. Talk to your mover about whether they provide instrument moving services or who they might recommend.
2. Sporting Equipment
Sporting equipment presents a unique challenge when moving. Weights, especially, are difficult to move. Packing too many weights in a box will make the box dangerously heavy. Instead, wrap weights carefully in paper or bubble wrap, and distribute them in separate boxes that will hold items like clothing, sheets, or towels.
Another alternative to moving weights, especially weight plates and bars, is to wrap stacks of weights in furniture pads and secure them with shrink wrap.
Secure other sporting equipment by using packing supplies. For example, wrap skis in bubble wrap and tape before placing them in the moving truck even if you have a case for your skis. Place tennis or badminton rackets in their cases and wrap them again with foam padding.
3. Furniture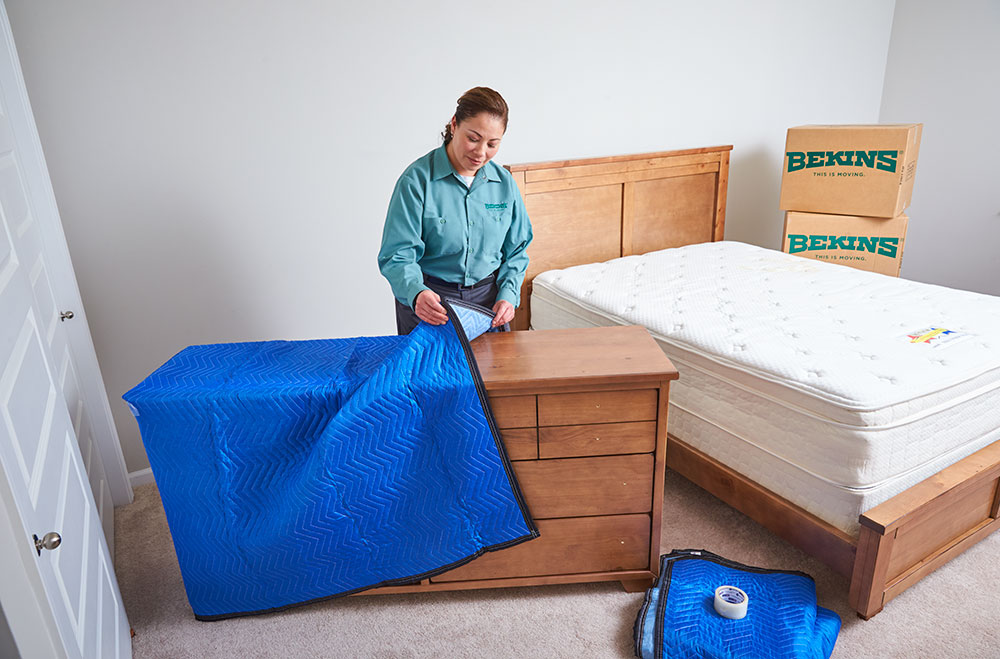 Homeowners often underestimate how much damage moving can inflict on furniture. Chairs, tables, dressers, bookshelves, and other furniture items can all become damaged if you are not careful. Be sure to:
Invest in proper moving materials. Furniture pads and blankets are essential to protecting wood finishes, furniture paint, and delicate woodwork. Don't skimp on furniture moving supplies to save money, because you can lose it in damaged furniture.
Hire help. You can prevent so much furniture damage by having experienced movers. Tight corners, bulky shapes, and heavy items are no problem for professionals. If you have invested money in quality furniture, relying on friends and family can be a big risk.
Protect corners. Corners are the most vulnerable – they are more likely to get dinged by a wall or to hit the ground when dropped. You can prevent corner damage with cardboard protectors, bubble wrap, shrink wrap, and tape.
If it's possible to take furniture apart, you should do so. It's more work and sometimes a hassle, but smaller parts are less likely to get damaged. To keep hardware from getting lost, put the pieces in a labeled plastic kitchen container. Pack each hardware container together in a box or parts bag.
4. Framed Pictures and Artwork
Picture frames are structurally weak, but they also have large panels of glass that are difficult to protect during a move. For best results, wrap picture frames in thin foam, and secure the foam with shrink wrap. Stack several frames together and wrap these into a bundle. Store the bundle on its side because glass stored vertically is less likely to break than glass laying horizontally.
For frames and canvas that have no glass, the best protection is other items. You might, for example, shrink wrap and pack a delicate canvas in the middle of a box of sheets.
Leave the movement of very large frames and artwork to the professionals.
5. China and Glassware
It seems no matter how carefully you pack fragile plates and glasses, you can't entirely prevent an accident. The best advice for preventing damage to delicate glassware is not to skimp on packing materials.
Newspaper is a cheap, go-to packing material that you should avoid for china and breakable glass; it can stain the surface of your items. You can wrap items in unprinted tissue to protect the surface from scratching, but it's best to use bubble wrap, inflatable bags, and packing peanuts to fill extra box space.
Finally, avoid packing your glassware too tightly in a box. You don't want items sliding around, but you also don't want to pack them so tightly they shatter under pressure.
For more information on packing and moving without damage to your property, contact us at Bekins Van Lines Inc.