1. Start small– Select a small project to begin your winter decluttering. One of our favorite decluttering projects is in the kitchen. Over the holidays, you most likely used a variety of kitchen utensils and serving dishes. Now is the perfect time to evaluate what your kitchen needs. Keep the utensils and serving dishes you use and donate or discard the rest.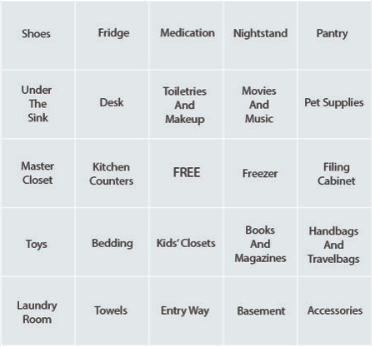 2. Make it fun – Once you have successfully completed a few small decluttering tasks, make the larger tasks fun by turning your to-do list into a game or party. Hosting a clothing swap party will help you (and your friends) become more organized and is a great way to get rid of or repurpose old clothes. You can also play decluttering Bingo. Just copy and print out our Bingo template pictured here. Once you complete any five tasks straight, across or diagonally, reward yourself with a spa day or a nice dinner out.
3. Divide and conquer – Don't feel pressured to complete a large project all at once. For a larger project, like your master bedroom closet, work in sections. By diving your work into mini projects, you will be able to keep better track of your progress. Also, you will easily be able to pick up where you left off once you feel up to working on the next section.
The winter months are a great time to organize your home. When it comes time to move, contact Bekins to learn more about how our trained, professional movers can help make it a safe, pleasant and organized experience.