For over 100 years,
Schultz Brothers Van & Storage
has been part of the van line, making them the longest standing Bekinsagent today.
"We're extremely proud to be the oldest Bekins agent left. It's something we hang our hat on," said Vice President and Office Manager, Rachel Shadburne.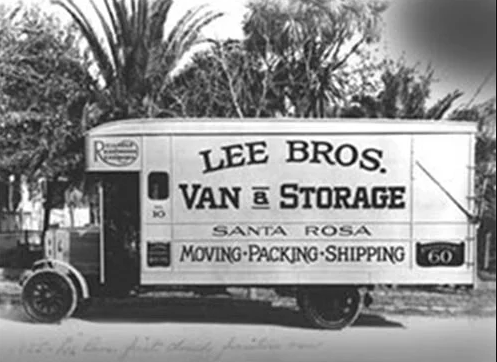 SCHULTZ BROS. TIMELINE
Schultz Bros. began as Lee Bros. back in 1907, signing on as a Bekins agent in 1917. During the next 26 years, Lee Bros. flourished, constantly adding to their sophisticated equipment. When covered moving vans became available, Lee Bros. was among the first to have them in its fleet.
In 1933, George Sr. and Carl Schultz bought the Lee Bros. business, becoming Schultz Brothers Van and Storage. Throughout the next 60 years, the Schultz family was involved in the everyday operations of the business.
In 1993, Rachel's father, Randall Richmond, and Vidal Serna purchased the business. Randall and Vidal worked together in Houston, Texas, with Randy managing the Houston Bekins agent and Vidal in charge of all warehouse operations as well as supervising corporate moving jobs. Shortly after the turn of the century, Rachel began working full-time at Schultz Bros. and began taking over the administrative duties.
MOST UNIQUE MOVE
A favorite story that she recalls hearing was back when the crew transported a patient who was in an iron lung from one local hospital to another. Because the iron lung itself would not fit an ambulance, a moving truck was needed to make the trek.
"It still didn't quite all fit in the moving truck, and two movers had to hang on the back of the truck with her to ensure safety."
Rachel said she recently found out that the woman recovered and was able to move out of the iron lung.
LONG PARTNERSHIP WITH BEKINS
Throughout the years, Schultz Bros. has established themselves as one of the most experienced professional moving companies in the Bay Area. The company has occupied the same two-block building since the 1930s, becoming a stronghold within the community.
"One of the main reasons this company is so successful is longevity," Shadburne said. She also highlighted the Schultz Bros. commitment to top notch customer service as a large contributor to the company's success.
"We really care about our customers. We know they're going through some of the most stressful times of their lives. I take a lot
of pride helping those people navigate whatever they're going through."
Through the ebb and flow of being a Bekins agent for over 100 years, Rachel says that the company is very proud to represent the van line.
"Bekins is a tried-and-true brand that a lot of Americans recognize and can depend on. We're happy to still be part of it." If you have a move coming up, Bekins is happy to put our longtime expertise to work on your behalf. Contact us today to get started.