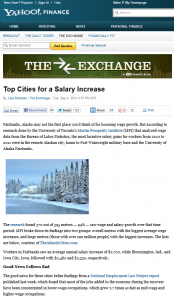 A question I often like to imagine receiving is, "Bekins makes moving such a painless and enjoyable experience. Because of this, I desperately want to be moved again but have nowhere to go. What are the best places to move to?" Of course, the answer often depends on what you are looking for in a community, but on the top of most people's lists is a place that provides jobs.
Yahoo! recently posted an article listing the "Top Cities for a Salary Increase." Why not pick a destination from that list and call your nearest Bekins agent? Even though you just moved, be sure to have another free in-home estimate done so we can offer you our trademarked No Excuse Price, which guarantees the price of your estimate.
Remember to pack your parka, though. Number one on the list is Fairbanks, Alaska.