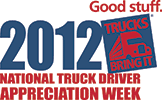 It's finally here! All week is National Truck Driver Appreciation Week. To show your appreciation for these unsung heroes, here are some suggestions on how to celebrate:
Drive across the country in one week.
Spend $1100 to fill up on gas.
Get together with your neighbors and practice the lost art of the convoy with your riding lawnmowers.
Sleep in your car.
Drive for 11 hours then spend another 3 hours picking up and setting things down. Remember to maintain a smile. Rest for 10 hours, then do it again the next day.
Smile and let a truck merge into your lane.
Thank a driver for bringing you 70% of the things you use today.
Check out the American Trucking Association's website for more information and fun facts.