When you think of the month of May, you might think about budding flowers, the end of the school year, and the beginning of warm weather. We at
Bekins Van Lines
 are thinking about celebrating.
May is National Moving Month and we are excited to share and celebrate our wealth of information about all things moving with you. Starting tomorrow, every day this month we will post a different moving tip that can help your planning, packing and moving experience to go more smoothly.
Also dispersed throughout the month will be interesting statistics, articles, images and posts about other moving trends and information.
We look forward to celebrating this month with you! This is Bekins and this is moving.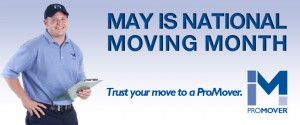 To view all of Bekins' National Moving Month Tips, click here.