3.  
Keep your boxes as light as possible.
It is tempting to try to be extremely efficient and fit as much as possible in to each of your moving boxes.  The hazard with doing that is that the boxes can become overstuffed and too heavy.  We recommend not putting more than 30 pounds of materials in your boxes to avoid both physical injuries to yourself as well as injuries to the box.
Luckily, Bekins has an array of packing options at your disposal.  We can do 100% of the packing, we can do part of the packing,  we can provide you with new boxes for a discounted price, or we can provide you with used boxes for free.
Bekins wants to make sure that your packing goes as smoothly as possible, so if you do choose to pack your belongings yourself, keep that 30 pound weight limit in mind.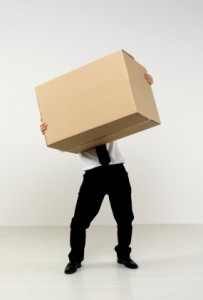 To view all of Bekins' National Moving Month Tips, click here.