SHRM 2013
Having recently returned from the Society for Human Resource Management's (SHRM) Annual Conference in Chicago, our Sales team was abuzz with new and exciting ideas.  This annual conference, the largest of its kind in the world, brings together HR professionals as well as Insurance, Professional Development, Talent Management and Corporate Relocation professionals… just to name a few.
Wheaton's Sales Administrator, Heather Stafford, recapped her experience in the Windy City and filled us in on some of her favorite and most memorable happenings of the week.
What's new
I've been going to SHRM's Annual Conference for four years, so I wouldn't call myself a novice, but I find that I continue to learn new things every year that I attend.  The biggest change I noticed this year was the presence of social media.  The amount of time spent on social media seems to increase every year and I find that fascinating.  I was amazed not only by the use of Twitter during the conference, but also at the amount of promotion that happened even before we walked through the doors of McCormick Place. The blogs (such as the one we wrote!), infographics and Tweets that I read for weeks leading up to the conference renewed my excitement to attend.
What's not new
Long days.  You can always expect to be tired after a day at the SHRM conference, but the days are fun and full of conversations and networking.  I particularly enjoyed Sunday evening as the opening reception always draws a large crowd.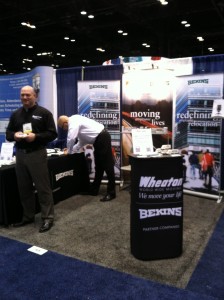 Impressive keynote speakers are also a SHRM staple.  This year topped the list with names like Gabby Giffords, Hillary Clinton and Blake Mycoskie.  SHRM brings the best of the best to their conference every year and you can always expect to learn a lot.
Favorite part?
That's a tough one. Of course, I love representing Bekins and talking about our top notch corporate relocation program.  It was also great to see new faces and reconnect with old friends. We raffled a Kindle Fire and Deana Moylan from The University of Texas MD Anderson Cancer Center was our big winner. I would have to say, though, that my favorite part of the conference was the Kelly Clarkson concert.  There was so much positive energy in the room, Kelly put on an amazing show and everyone had a great time.

Final Thoughts
I always enjoy attending SHRM's Annual Conference. I know that I'm going to have the opportunity to showcase our corporate relocation program and walk away with a solid list of potential clients.  The conference is always well-run, effectively scheduled and organized.  With an impressive lineup of keynote speakers, attendees and entertainment, it's a conference that can't be missed.  I can't wait to see what's in store for SHRM14 in Orlando!
Heather Stafford is the Sales Administrator  for Wheaton World Wide Moving | Bekins Van Lines.  You can connect with Heather on Twitter and LinkedIn to learn more about her experiences at SHRM and the Bekins corporate relocation program.