Every day is a juggling act for Annie Dietrich, CFO of Bekins agent, Lincoln Moving & Storage Co.  She wakes up every weekday at 4:40a.m. to prepare herself for her long, busy and full day.  Yes, Annie works for Lincoln Moving & Storage, but that isn't her only working responsibility.  She is also the proud Co-Owner and a Certified Group Exercise Instructor and Personal Trainer at her fitness studio, AOK! Fitness.
Her Passion for Fitness
Dietrich has always enjoyed being active, citing walking and biking as a couple of her
favorite physical activities. She started making exercising a staple in her daily routine back in 1985, reminiscing listening to 80's classics such as "Jessie's Girl" by Rick Springfield and "Physical" by Olivia Newton John while working out and teaching classes.  "I really can't remember a time prior to 1985 that I haven't worked out," said Dietrich.  "It's always been something I love, so it's easy to do it each day."
Transition to AOK!
With the help of her good friend Kim, Dietrich decided that her passion for exercising could be more than just a hobby – it could be a profitable business as well.  In 2002, the two women decided to open their own fitness studio, AOK! Fitness.  Opening this studio meant making a commitment to offer the best in fitness, health, and wellness while offering a welcoming atmosphere to people of all shapes and sizes, ages, and fitness backgrounds.  This commitment hasn't changed a bit since the opening day in 2002.
Evolution of AOK!
Since opening AOK! in 2002, the studio has grown from just 2,000 square feet to a staggering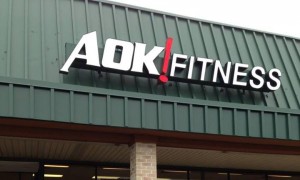 8,400 square foot operation, boasting over 20 Certified Instructors and 84 group exercise classes every week.  In addition to their main facility, AOK! also contracts their classes out to local recreation centers, private companies and adult continuing education programs. In addition to co-owning the facility, Dietrich also plays a pivotal role at the studio by teaching several classes including Cardioboxing, Spinning, TRX Yoga, Barre Pilates, Resistance Training, PiYo, Weight Lifting and Step… just to name a few!
Community Involvement
AOK! Fitness doesn't just aim to offer an inviting and welcoming atmosphere for their customers.  In addition, they also place an importance on giving back to their community of Strongsville, Ohio.  This coming September, AOK! Fitness is presenting Party In Pink, a huge party and Zumbathon benefitting the Susan G. Komen Foundation.  AOK! Fitness has been presenting this event for several years, and has raised well over $20,000 over the years.  It's an event and a cause that Dietrich is very passionate about. One of her close friends and co-workers at Lincoln Moving and Storage is a breast cancer survivor as well as several AOK! clients and friends.
Bekins Connection
Annie Dietrich is the CFO of The Lincoln Moving & Storage Co. and proudly represents the third generation of family ownership and management of the moving business.   She shares this third generation distinction with her brother and three cousins.