Part Two: A recipe for success: In the Stores
The hunt for the holiday gifts that will light up those special faces is on. To most, it doesn't matter if it means setting up camp outside a store with hand warmers until the doors open for Black Friday specials and then waiting an additional six hours in winding lines once inside. We do whatever it takes to get that extraordinary gift for our loved ones. This past weekend, millions of people lined up to get deals on Black Friday. Today, millions more will participate in Cyber Monday with hopes of the best deals being just a click away. It can be tricky and sometimes frustrating with so many people competing for the same bargains. The mantra of The Hunger Games is, "May the odds be ever in your favor." But at Bekins we say, the odds are in your favor by following these few simple tips as you shop this holiday season.
Black Friday is not over just yet…The aftermath
If you are like many, maybe you embrace the chaos of venturing out for Black Friday deals. Black Friday has become an art for many families who bond over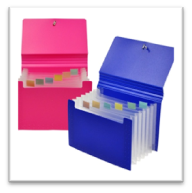 the art of planning out their route. Once the chaos and excitement of Black Friday is over, however, it is easy to forget the details of all your hard work. Do yourself a favor and get organized. Keep track of purchases by organizing your receipts. It doesn't take much — just a simple plastic file folder (like the one featured on the right) will do! You also can use these to remember to send in rebates. Forgetting to redeem rebates would be cheating yourself out of those hard earned deals! Dig in and do a little filing of the receipts. It won't take long — and it will pay off, literally.
Cyber Monday just hit…
Just like that, Thanksgiving has passed and already it is Monday again. But it's not just any Monday…it's Cyber Monday and thus the deals continue. While it might seem to be a simpler form of shopping (cup of coffee in hand on the couch), there can still be strategy involved. We came across these next few tips while checking out Collin Morgan's Hip2Save blog:
·         If you are purchasing an item for a friend/family member, consider having the item shipped directly to the gift recipient (this will save you from having to incur additional shipping costs once you receive the item).
·         Look for shipping guarantees. If you are purchasing items for Christmas, take some time to read the shipping policy to ensure your items do indeed arrive in time for Christmas.
·         Search coupons codes before you buy! Before you hit the purchase button, take some time to search for coupon codes on site like RetailMeNot.com . Also, consider joining a cash back site like ShopAtHome.com or Ebates.com to earn cash back on online purchases.
·         Read the return/exchange policies for each retailer. Some retailers will not refund/exchange items purchased on Cyber Monday so be sure to keep this in mind.
Don't forget to print any Cyber Monday receipts and add them with any notes to your file folder. Both will save you time should you need to return anything, which we all know is coming after the holidays. Check out more Hip2Save's best kept secrets here: http://bit.ly/17UPuyN.
Get rid of your lists! 
Okay, not totally, but condense your list down to one and keep it electronic. Make a list on your phone. It will be more secure and you will be less likely to forget it when you leave the house. It's much easier to manage and maintain, which will save you time and money in the end!
*Bonus:
Now for a moving tip…we are a moving company after all
SAVE YOUR BIG BOXES. It may seem totally tedious now…but trust us, your next big move will thank you! A good place to start is with your electronics boxes. These make great storage boxes. You can use them now, in the garage, and in the basement to store things. Whether you are moving your son or daughter into college, or you are moving your belongings to a new house — they will come in handy!