Miami, Florida
Welcome to Miami, where the beaches are beautiful the streets are alive! While talking advantage of a day or two at the beach is a great idea – don't miss out on all the city has to offer. The sky is the limit and the beach is only where the fun begins.
History Buff
Let's take a few steps back in time, to the 1950's. Visiting Historic Overtown can give you a whole new appreciation for the city. While in Overtown, you will experience what used to be known as Little Broadway –  a district full of music and entertainment. Big name performers such as, James Brown, Sam Cooke, Ray Charles, Aretha Franklin, Lena Horne and Ella Fitzgerald entertained in music halls found in this part of town. The legends and stories originating in this neighborhood in Miami are predominantly shared among the city's black community. The scenery in Overtown may have changed throughout the years, but the passion for jazz and soul lives on in the city.
Dining Options
With a heavy Cuban influence, indulge in some of the cities' finest Cuban cuisine. Larios on the Beach is located off the famous Ocean Drive, complimented by a beautiful view of South Beach.  Enjoy this Cuban spiced food topped off with a suburb atmosphere and outdoor seating options.
The Federal Food Drink & Provision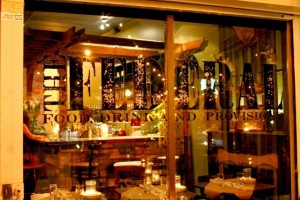 The Federal Food Drink & Provision, often shortened to The Federal, is located in the Design District. This local hotspot draws inspiration from classic American dishes and seeks to provide a place where the neighborhood can enjoy their favorite foods in comfort. While there are several great dishes, The Federal is quite well-known for their buffalo style pig wing – you never know, it could be your new favorite!
Night Life
The hustle and bustle does not stop after the sun sets. Be sure to take advantage of the fun-filled night life. Downtown Miami is packed with live entertainment venues. The venues range from indoor and outdoor spaces that host local and touring talent. You can see artists creating their masterpieces live on stage or their featured work on the walls of the venues where you are  enjoying live entertainment. This is a great place to find authentic souvenirs to take home!
Make Miami Home
Want to make this vibrant city your new home? Lucky for you Bekins has a number of professional movers in the area ready to relocate you.
Bekins of South Florida has three separate locations in Florida that offer top-of-line service. Contact Info:
Bekins of South Florida, Fort Lauderdale.
Bekins of South Florida, Medley, FL
Bekins of South Florida, Boca Raton
Keep following along with Bekins as we continue our travels across the U.S. Where do you think we'll go next? Leave us a blog comment, Tweet us, or leave us a note on Facebook!