Need some Thanksgiving menu inspiration? Bekins Van Lines can help! Last Wednesday, the Bekins Van Lines corporate office held its annual Thanksgiving luncheon with MCL Bakery providing the turkey, ham and mashed potatoes. The Bekins staff provided the side dishes and desserts, proving they are not only experts in moving, but can cook too! Here are some of the favorite recipes from the luncheon to help with your Thanksgiving menu:
Appetizers
Rhonda's "Pumpkin" Deviled Eggs 
6 eggs
2 tablespoons of thick coconut milk, cold (not low fat) or mayonnaise 2 Teaspoons of Thai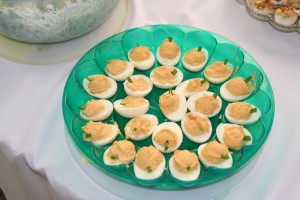 Curry Paste
1 teaspoon ketchup
1/2 teaspoon paprika plus more to sprinkle
1/2 teaspoon spicy mustard
1/4 Siracha or other red chilli sauce
Salt to taste
1 spring green onion
1) Boil eggs, peel and slice length wise removing the yolks
2) Place yolks and Thai curry paste, ketchup, paprika, spicy mustard and Siracha in a small bowl and mash until smooth
3) Mound the yolk mixture in the egg whites and smooth the surface 4) Use a toothpick to draw lines for the pumpkin look
5) Sprinkle with paprika, if desired
6) Cut the green part of the onion to make the pumpkin look
Sides
Shari's Husband's Haluski Recipe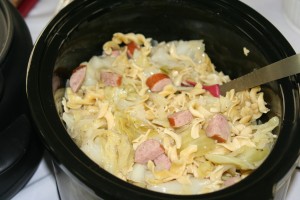 Package of egg noodles (use half of a package if you like more cabbage in your recipe)
Whole head of cabbage
Kielbasa (optional)
1 stick of butter, margarine or olive oil
Chopped onions
Salt
Pepper
Garlic Powder
1)  Cook any brand of egg noodles per package instructions and drain before adding to cooked cabbage. You can use a 1/2 bag of noodles depending on whether you enjoy more cabbage than noodles.
2) Cut head of cabbage in half and remove stem core. Cut into 3 pieces and then cut those pieces into 3 pieces to give you a nice bite-size piece. Repeat on second half of head.
3) Sauté some chopped onions (you can add a little butter to these)
3) Melt 1 stick of butter, margarine or olive oil (your preference) to non-stick dutch oven or pot. Add the sautéed onions to the dutch oven or pot.
4) Add cut cabbage. Generously add salt, black pepper, and garlic powder to taste.  Cover with lid, cook on medium heat. The cabbage will cook down releasing its moisture. Stir occasionally until it becomes soft. A little brownish tint isn't a bad thing.  During this stage you can also add cut-up kielbasa sausage.
5) Drain noodles. Add to pan.  Lightly mix in to the cabbage. Cover and cook on low heat for about 10 minutes to enable all ingredients to meld with the noodles.
6) Serve and enjoy.
Flo's Green Beans
3 cans of green beans, Drained
1/2 cup of brown sugar
1 cup of ketchup of tomato sauce
Small onion
6 slices of bacon uncooked
1) Preheat oven at 250
2) Put all of the ingredients into a 9×13 pan and cook for 3 hours
3) Serve and enjoy!
Olivia's Sweet Potato Casserole
8-10 peeled and boiled sweet potatoes
1 cup of brown sugar
1 stick of salted butter
Bag of mini marshmallows
Chopped pecans
1) Preheat oven 350 degrees
2) Mix sweet potatoes, brown sugar and salted butter with a mixer until it is whipped and smooth
3) Top with mini marshmallows and chopped pecans
4) Bake for 30 minutes or until the marshmallows are slightly browned and melted
Stephanie's Pumpkin Bars
1 (18 oz) box of yellow cake mix
1/2 cup of butter, melted
13 ounces pumpkin butter (specifically 1 13-oz jar of pumpkin pecan butter from Williams & Sonoma)
3 eggs
1 tablespoon of flour
1/4 cup of sugar
1/4 cup of butter, softened
3 tablespoons of milk
1 teaspoon of cinnamon
1) Preheat oven to 350
2) Reserve 1 cup of cake mix and set aside
3) Mix remaining cake with a 1/2 cup of melted butter and 1 egg. Press mixture lightly into the bottom of a 13×9 baking dish
4) Mix one jar of pumpkin pecan butter with remaining two eggs and milk and pour over cake mixture in pan
5) Mix remaining 1 cup cake mix with flour, sugar, remaining 1/4 cup butter, and cinnamon, and crumble of the top of the pumpkin layer
6) Bake 35-40 minutes, or until golden
7) Cool to room temperature and serve.
Luann's Pumpkin Roll
Cake
Powdered sugar
3/4 cup all-purpose flour
1/2 teaspoon baking powder
1/2 teaspoon baking soda
1/2 teaspoon ground cinnamon
1/2 teaspoon ground cloves
1/4 teaspoon salt
3 eggs
1 cup sugar
2/3 cup Pure Pumpkin
1 cup chopped walnuts, if desired
Filling
1 (8-ounce) package cream cheese, softened
1 cup sifted powdered sugar
6 tablespoons butter, softened
1 teaspoon vanilla
1) Heat oven to 375°F.
2) Grease 15x10x1-inch jelly-roll pan; line with parchment or waxed paper. Grease and flour paper; set aside.
3) Use clean thin, cotton kitchen towel on counter; sprinkle with powdered sugar.
4) Combine flour, baking powder, baking soda, cinnamon, cloves and salt in small bowl.
3) In a  large bowl, combine eggs and sugar; beat until thickened. Add pumpkin; beat until well mixed. Stir in flour mixture.
4) Spread batter evenly into prepared pan. Sprinkle with walnuts, if desired.
5) Bake for 13 to 15 minutes or until center springs back when lightly touched. Immediately loosen cake from edges of pan; invert onto prepared towel. Remove pan; carefully peel off paper. Roll up cake in towel while hot,  Cool completely on wire rack.
6) Beat cream cheese, 1 cup powdered sugar, softened butter and vanilla in small bowl until smooth. Carefully unroll cake; remove towel. Spread cream cheese mixture over cake. Reroll cake.
7) Wrap in plastic food wrap; refrigerate at least one hour. Sprinkle with powdered sugar before serving, if desired.
Check out some more photos from the Thanksgiving luncheon:
What are you favorite Thanksgiving recipes? Post them below!