Happy Valentine's Day from Bekins Van lines! Since we are feeling the love today, we are looking at what makes Bekins Van Lines a preferred interstate van line. Receiving feedback via our survey, the Customer Experience Report (CXR), speaking to customers on a daily basis and analyzing the journeys our customers make during every step of the move process reveals to us what customers believe sets us apart from our competition.
Customers
Beginning in 1891, Bekins has moved plenty of people and with that type of long-history, many of them are returning customers or have been recommended to the van line. In fact, four in ten customers pick Bekins because they have used us before and had a positive experience, or they have been recommended by someone they know and trust to hire Bekins for their move. This is our largest segment of customers and this percentage has increased significantly over the last several years, so our customer loyalty is ever growing.
Karen, a recent customer said in their CXR, "Very pleased, as always, with Bekins. The driver told us of delivery date upon pick up of our goods. He and his helper were very professional! I hope this is the last move, but if not will call Bekins again"
Rudy and Carolyn, more recent customers said, "Ford transfer moved us locally 2-3 times in or near Twin Falls, Idaho. They're great!"
"I had used Bekins for a business move a few years ago and was very satisfied, so I used them for my personal move this time from California to Nevada.  Our sales representative, Jennifer, in the Burlingame, California location (AMS Bekins) was very helpful, very friendly and very accommodating.  Our driver, Eric, was unbelievably excellent in every way.  He was courteous, on time and provided a very enjoyable moving experience. I would highly recommend Eric for training your drivers as he is definitely the ultimate example of customer service.  I have been in customer service for 29 years so I know what I am speaking about. I will always recommend Bekins to anyone I know is moving," said Lynne in Dayton, Nev.
Drivers
Our drivers are the h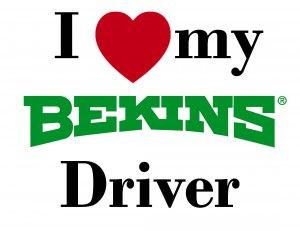 eart and soul of every move. Not only do drivers spend weeks driving around the country with household goods, they also help coordinate the helpers and communicate with the corporate office about scheduling.
Customers consistently rate our drivers with high marks. More than nine in ten customers indicate in their survey that they would choose to have their exact same Bekins driver move them again for their next move!
"My driver, Alex, was absolutely fabulous.  He was on time in both places, as promised, took great care to let me know what was happening, was very reassuring at all times, personable, respectful, supervised the movers well, and didn't hesitate to do things himself if he felt it was necessary," Karen from Massachusetts said.
Barbara was very complimentary of her driver, "John was our mover and we could not have asked for anything better. He was simply great."
Salespeople
One of the first interactions the consumer has with the van line is through our salespeople. Our salespeople are known for their expertise and professionalism in moving. This is another leverageable strength of Bekins. Approximately nine in ten customers have very favorable perceptions of our salespeople's courtesy and professional service. This service promotes trust and confidence in our customers that Bekins can reliably and effectively handle their moves.
"In addition to the actual movers, Val Hardwick (sales mgr. AMS Relocation) and her staff were thorough, professional, on top of her game and a pleasure to work with. In this crazy world where so much doesn't work, Bekins is doing it right with integrity. Thank you!" said Pix in her recent CXR.
Communication
Customer feedback and statistical analysis of our survey data reveal communication is biggest driver in shaping customer perceptions of Bekins. Communication and great customer service makes the difference between a good move and a great move. Since proactive and accurate information is so important to our customers, we are constantly reviewing our processes to improve our communication with them.
Future
Our goal is to exceed expectations with every move. With that goal in mind, we are constantly reviewing the customer experience through the CXR and other feedback mechanisms platforms for ways to improve the process and make it as stress-free as possible.
*Source: Wheaton World Wide Moving | Bekins Van Lines, Customer Experience Report, Quarter 4 2014