Summer is the perfect time to take advantage of the warmer weather by making improvements to your home. The warm, sunny weather is ideal for outdoor projects and for cleaning out the garage. We have listed six great summer projects that can be completed in a weekend and add value to your home.
1. Landscaping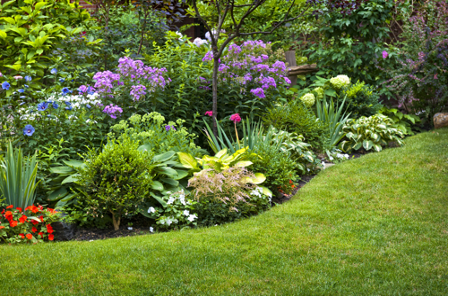 A nice summer weekend is a great time to clean up landscaping. Enjoy the great weather and add some color to your outdoor space. That's what we call a multitasking win!
2. Power Wash
Make your home's exterior, driveway, and sidewalk look brand new with a high-powered shower. If you're going to make this a DIY project, be sure to read the instructions and use the proper pressure settings for the job.
3. Deck and Patio Repair
Protect your deck from the elements by repairing and restaining it. If you have a patio, tend to any loose pavers or chipped concrete. This is also a great time to spruce up your outdoor living space with some new outdoor décor. Most major retailers have great sales on outdoor items near the Fourth of July.
4. Clean the Garage
If you didn't clean your garage in the spring, now is the perfect time to do it. While you're at it, you can have a garage sale to make some money off of any unwanted items in good condition.
5. Clean the Gutters
Avoid costly water damage from summer storms by cleaning the gutters. Make sure you have a sturdy ladder, bucket, and gloves. After clearing your gutters, spray them with a hose to remove any remaining debris.
6. Repair the Fence
If you have a fenced-in lawn, now is a great time to repair or repaint the fence. The warmer weather will allow the paint or stain to dry quickly.
After your hard work, we hope you will relax and enjoy the great summer weather. If you're readying your home in preparation for an upcoming move, the friendly and professional team at Bekins is ready to help with all of your relocation needs. Call a Bekins agent today to learn more.