Whether it's for a job, family or just for fun, moving out of state can be an overwhelming undertaking. With hundreds of things to track, it's difficult to stay on top of it all. To make sure your move goes smoothly, we've created a list of tips for moving out of state:
Moving Out of State? Follow These Tips!
Put our experience to work for you. Here are the best tips for moving out of state as compiled by our experts: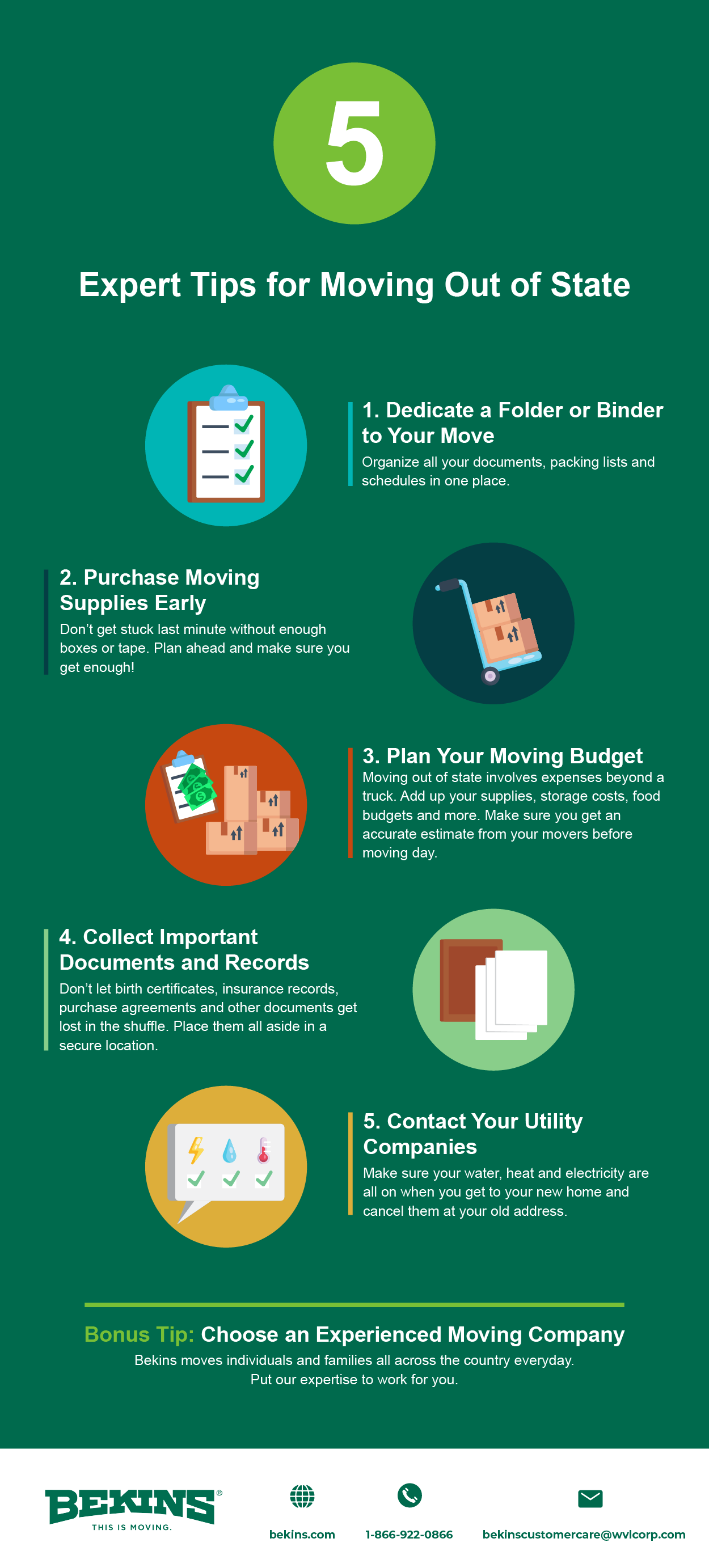 ---
1. DEDICATE A BINDER/FOLDER TO THE MOVE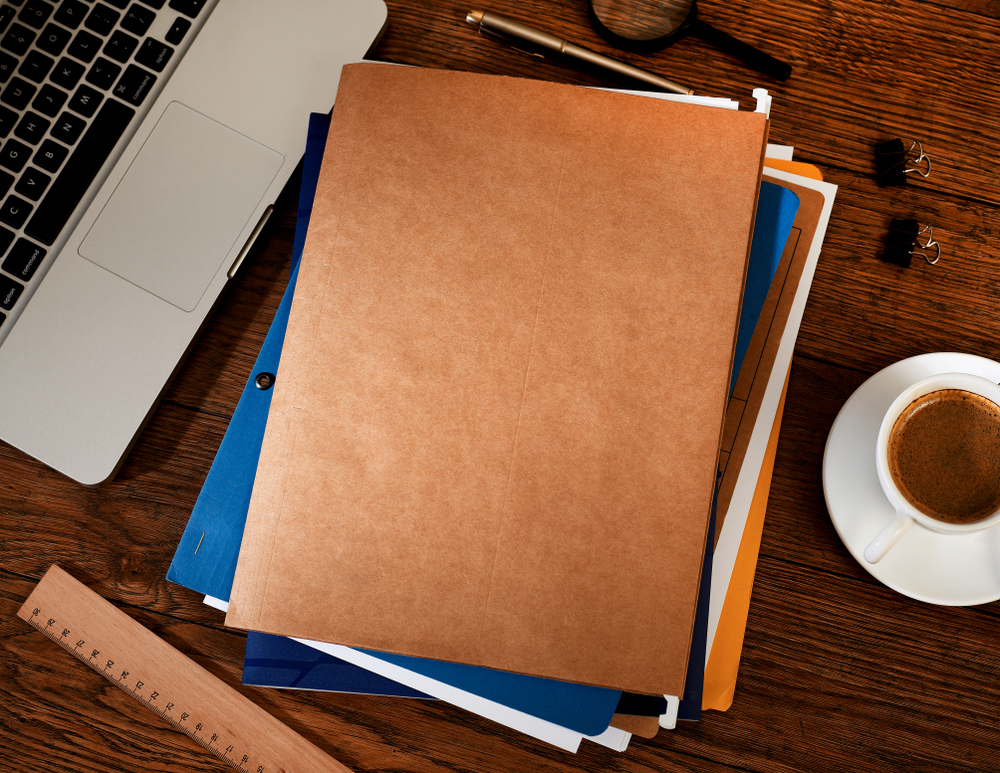 By dedicating a folder or a binder to your out of state move, you'll be able to organize everything you need in one place. Make lists for things you need to buy and check off items as they're done. Separate tasks for the old place and the new place to stay organized.
Keep it organized
Another tip is to create tabs that include packing lists, schedule, school information and plans for your new/old house. You might even include a copy of Bekins' moving checklist. If you've started plans for redecorating, store your paint samples and room layouts as well. The possibilities are endless, and we know you are going to have big plans for your new home.
2. PURCHASE YOUR MOVING SUPPLIES EARLY
If you don't want to be running to the store at 11 pm the night before your move, plan ahead and buy moving supplies in advance. Purchase boxes, tape, bubble wrap and other supplies from your mover beforehand. Make sure you pick up a few sharpies to label everything too. Keep a running list of items you need and be sure to stick your list in your binder!
More is more
How many types of supplies do you need? Always get more than you think. You never know how many rolls of tape it will take to seal your boxes or how many boxes it will take to pack your entire kitchen.
You can always take the extra items back and get a refund on the unused supplies before you cross the state line. That said, there's always someone moving; you can get a deal on your moving supplies by ordering in bulk and selling leftover supplies to neighbors or through online marketplaces. You will for sure be able to save yourself stress by planning ahead.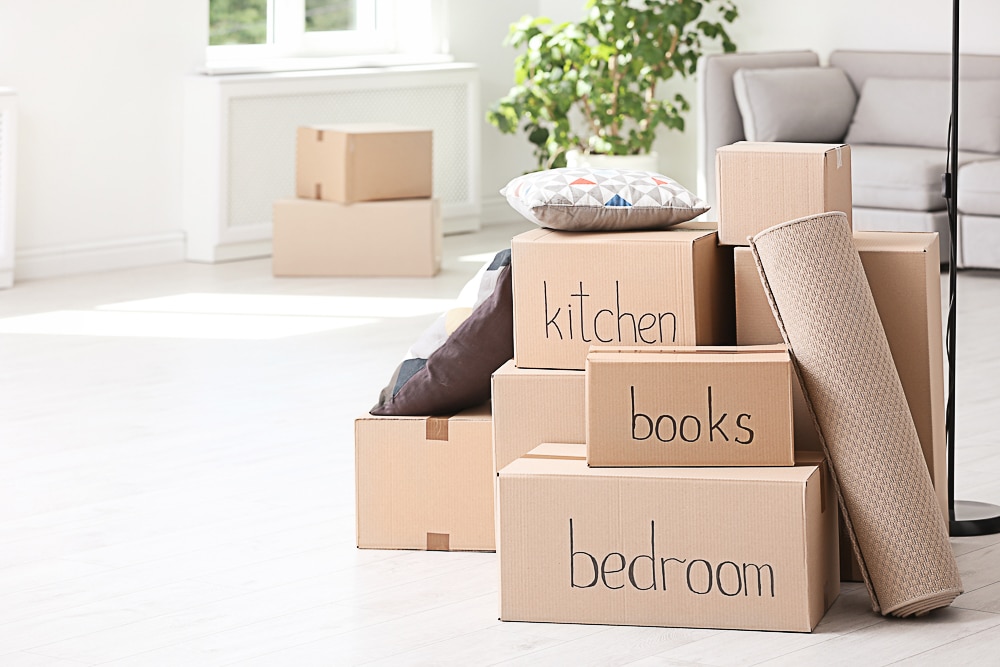 3. SET A MOVING BUDGET
It's no secret: moving is expensive! That's why it's smart to set a budget to eliminate surprise costs. When working with professional movers, it's important to allocate the costs and ensure you know where your money is going. If you're using a packing service, be sure to figure out how many items you need packed and what the cost will be.
The more upfront and accurate you can be about what you'll pack versus what the movers will pack, the more accurate the movers' estimate will be for your final bill. Be sure to do your research and plan your costs accordingly.
Will you need to store your stuff?
Another thing to consider is whether you will need storage. If you can't get into your new home immediately, you may need a place to store your belongings. This can be another big expense and requires planning well ahead of your move. Consider the monthly cost and research short-term storage options.
Budget for boxes, boxes and more boxes
Packing materials are also something you may have to account for if you're packing on your own. These materials range in price, and like mentioned before, can be bought in bulk. This is a time and money saver!
You'll need to eat
Don't forget about food! You most likely won't have all your cooking materials the first couple of nights you are moving, so budget extra money for restaurants or takeout to feed the family. These little expenses can add up. Make a list of things you'll need to pay for on top of the mover's estimate and keep track of them, so that your budget matches your reality.
4. COLLECT IMPORTANT DOCUMENTS AND RECORDS
Important documents like your social security card, birth certificate and passport are crucial items that seem to get lost easily. Designate an area and set these items aside before you even start packing.
This could be a tab in your moving binder or a more secure area where these documents will be safe (such as a fireproof box or safe). Items like identification are easy to lose and you'll likely need them to get a new driver's license or state I.D. at your new address.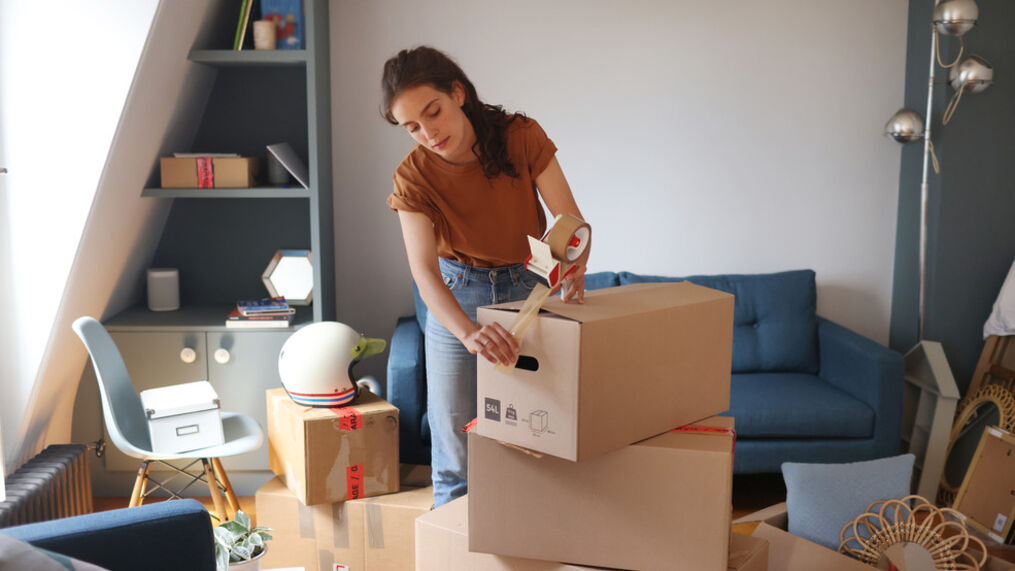 5. CONTACT YOUR FUTURE UTILITY COMPANIES
Don't forget about the electricity, water and Wi-Fi. Just because they're always there in your home, doesn't mean they will be when you move. Contacting your local providers to set up these services is one of the most important things to do before moving out of state. You don't want to get into your new home in July to a sauna or in December to an icebox. Make sure to buy a new router for Wi-Fi if you turned the old one into your previous provider. Especially consider:
Water
Electricity
Wi-Fi/cable/landline
Trash/recycling
While you're at it, make sure you shut off your old services as well!
Bonus Tip: How to Move Out of State the Easy Way
Of all the things to consider when moving out of state, the moving company you hire may be the most important. Bekins Van Lines is your experienced out of state mover for every type of relocation. From moving young couples into their first home to helping older adults downsize and relocate into a smaller home, we help people like you everyday. If you're looking for a change across state lines, Bekins is ready to get you moving. Find your local agent to get started!