With Silver Certification, Moving as an Older Adult Has Never Been Easier
Many of our Bekins Van Lines agents are Silver Certified, which means they have participated in specialty training for moving older adults. If you're moving as an older adult (or you're helping your aging parents coordinate a move), there's a good chance you have more belongings, items of higher value, physical limitations and possibly even emotional challenges to consider than you would planning a move for a young adult.
At Bekins, we understand moving is tough no matter your age—we also understand there are certain requirements involved when you're an older adult relocating. When you move with us, you can feel confident you'll receive top-notch moving services to make your move easy and stress-free.
Moving Assistance for Seniors: Trustworthy Movers are Essential for a Worry-Free Relocation Experience.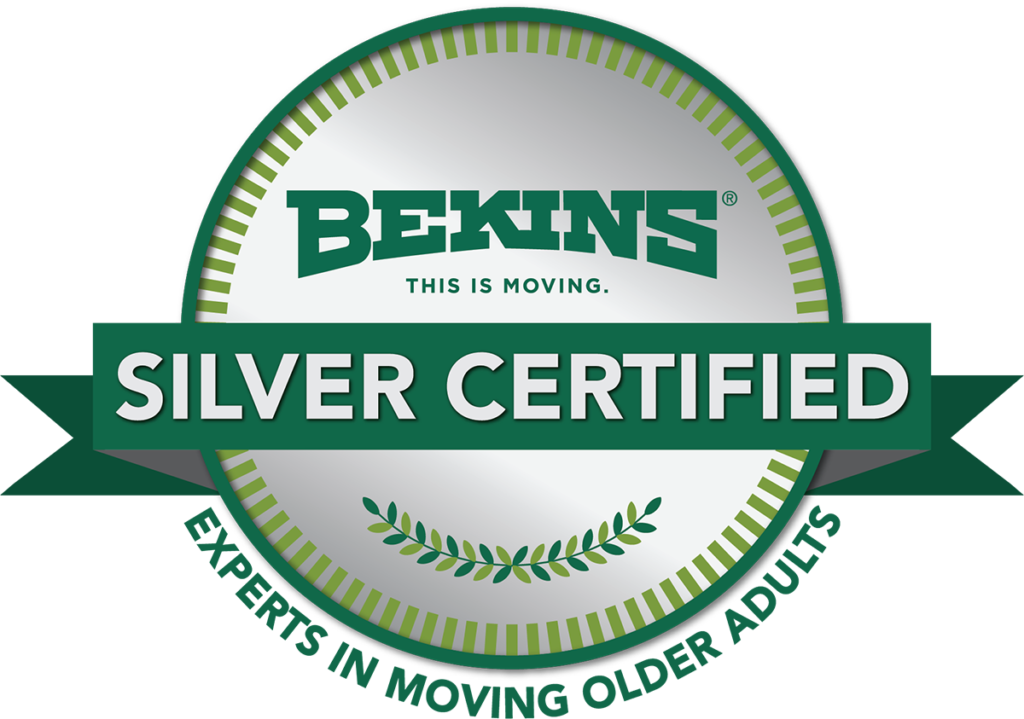 Bekins is one of the oldest moving companies in the U.S. Our expertise and dedication to our customers is what has allowed us to last and thrive for more than 130 years. The Silver Certified Program, which is endorsed by the National Association of Senior Move Managers (NASMM), adds an additional layer of trust to your local Bekins agent. You can always count on Bekins to provide moving services that will take your move from stressful to successful.
As you prepare for your move, look for the Bekins Silver Certified logo. That logo is a promise that we understand the importance and difference of moving older adults. Now, you have a lifetime's worth of belongings—some of which are probably high in value. No matter the number of items you have, the distance you're moving or how much help you require, Bekins is here to be your guide and helping hand.
The Upside of Downsizing
Preparing for a move is about more than just gathering and packing your stuff… It's about growth and new beginnings. There's a good chance you (or your aging parents) will need to do some downsizing before moving to the new home—there are years of belongings to sort through!
That's why Bekins Van Lines is a proud supporter of the series "Legacy List with Matt Paxton." The Emmy-nominated TV show focuses on celebrating history and the stories found while Matt and the team help older adults declutter and transition, usually during a home relocation. Learn more about our partnership with Legacy List.
Moving as an Older Adult? Don't Settle for Less, Move with the Best.
Bekins is happy to help with every step of your move. From packing to storage to delivery, our moving services are unparalleled. Are you downsizing to a smaller home? Do you have specialty items, such as a piano or a safe, that you need moved? We can do it all. A few of our moving services include:
Put Your Move in The Right Hands. Get in Touch with Bekins Today
If you're looking for senior moving services, look for that Silver Certified logo—that way you can be sure your move is handled by specially trained professionals. You deserve to have a simple and stress-free moving experience. To get started with your move, get in touch with your local, Silver Certified Bekins agent today.
---
Frequently Asked Questions:
How to Help Elderly Parents Move
A few tips on helping your elderly parents move include:
Be empathetic to the change they're experiencing.
Help them sort, organize and downsize.
Plan their living arrangements—will they be going to assisted living?
Clean as you move them out.
Hire a moving company.
Learn more about how you can help your elderly parents move!
Does Bekins Offer Senior Moving Services Near Me?
Bekins has local agents all over the country. No matter where you or your parents are moving from or where they're headed, we have a Silver Certified team to help them have a simple, stress-free move. Find your local Bekins agent to get started.
Where Can I Get Help With Moving Elderly Parents Out of Their Home? 
Bekins Van Lines can help! We have plenty of experience moving and downsizing seniors. You don't have to go it alone; get help from Bekins Van Lines. Get in touch to get started with your stress-free move!